Jurassic World: Dominion Dominates Fandom Wikis - The Loop
Play Sound
"12,800,000 meters. One second."

— Why-man using Senku's voice to petrify the planet, Dr. Stone, Chapter 191
Why-man (ホワイマン, Howaiman) is the name Ryusui gives to the source of powerful radio wave messages the Kingdom of Science receives after putting a large radio transmitter into service. The name is chosen as the messages consisted of only the word "WHY" repeated in Morse code when the signal was first heard.[1] Determining the nature of Why-man is a major goal of the Source of the Petrification Saga. It was later revealed that the mysterious messages were actually coming from the Petrification Weapons themselves.
Why-man is the main antagonist of Dr. Stone.
Appearance
Why-man is normally depicted as an extremely gaunt, skull-like face with hollow eye sockets and a very small, almost cut-off nose. They've got two layers of teeth, with the outer/top layer looking similar to a child's teeth x-ray. They're always depicted with heavy vertical hatching, making them appear as a grainy television image. Their hand is also shown to be very long and bony, with equally long, unkempt black nails.
Their true appearance is a swarm of petrification devices, capable of assuming any form.
Personality
Their main goal is to keep humanity petrified, as both during Treasure Island later on the Perseus, Why-man attempted to petrify everyone using the petrification devices.
Gen noted, analyzing Why-man's behavior, that it must be an entity with a will of it's own, and considers itself far superior to the Kingdom of Science, such as to completely disregard their attempts at communication, but also not retaliating with full force.[2]
Why-Man was later revealed to be the petrification devices themselves, as they are technological parasites of advanced design. The entities assume all beings prioritize survival above all else, which is why they could not understand why the humans would reject what they see as eternal life. They appear to be curious, having asked questions when they did not understand,[3] and willing to discuss their options and negotiate with humanity despite thinking that petrifying them may have been a mistake.[4][5][6] They are also not very patient, nor do they like taking risks.[7]
Synopsis
Why-man is first heard communicating with the Kingdom of Science using Morse code on the motorboat, soon after the "crazy-strong" radio tower is turned on for the first time. The message that saturated the radio frequency the Kingdom was using consisted of one word being repeated over and over: "Why?".[8]
This call shocks the members on the boat, with Chrome telling Why-man to stop shouting, despite his friends telling him to pipe down. Senku responds to the shouting via their radio by calling them out as the source of the petrification. The signal immediately stops, leaving the group to speculate on who or what the signal came from. The group chose to assume Why-man is an enemy, as the worst that can happen is they over-prepare for someone who is in fact an ally.[9]
During the voyage to Treasure Island, Soyuz comes forward as a previous inhabitant of the island. Chrome speculates that Why-man may be a member of the Treasure Island tribe, as there can't be many other living humans in existence thanks to the petrification.[10]
After the conflict on Treasure Island is done and the cellphone is fixed, Ruri tells the team that they've been receiving a strange message. Their connection is then cut off by a second strong signal that takes over the radio waves in an attempt to activate the petrification device remotely, with the stated distance being Earth's diameter (12,800,000 meters) and the time as 1 second. This call has the Kingdom of Science confirm that Why-man was an enemy who wants to see all of humanity petrified. However, the voice, as noted by Ukyo, is a synthetic voice matching Senku's.[11]
The source of Why-man's transmissions is apparently on the Moon.[12]
The Kingdom of Science decides to travel the world and gather supplies for space travel to confront Why-man. Some members want answers while others, like Matsukaze, want revenge.[13]
Dr. Xeno reveals that he is also aware of Why-man and the signal coming from the moon, which surprises everyone. Despite their enmity, he proposes an alliance to defeat Why-man with Senku who gets excited as Xeno hopes that they can work together to figure out the source of the Petrification and they proceed to exchange information.[14]
Following the fall of the Science Kingdom personnel stationed in Corn City, Joel exploits Why-man's regular interval radio to petrify everyone, including Senku, by using his modified watch that also serves as radio transmitter.[15]
Seven years later, a revived Senku decides it is time to confront Why-Man before another calamity unfolds. To that end, Senku revives Xeno who agrees to put aside his enmity with them to defeat a common foe. He agrees to construct a rocket for them.[16]
Following the revival of his followers, Xeno informs them about Why-man and status on the moon. The Americans were stunned someone was actually on the moon and by the thought of space travel in the Stone World.[17]
On the way to Europe, Why-man sends a message to the Kingdom of Science, which Ukyo, Leonard (both stationed near communication devices), and Chrome received. Why-man's new message translates to the question "DO YOU WANNA DIE?", shocking everyone. Ryusui immediately suggests sending a response, to which Gen objects, worried about provoking Why-man by being too hasty. Later, Gen mentions their own attempt at communication met no response from Why-man, who stopped broadcasting messages altogether. Senku speculates Why-man is likely desperate but not enough so to rain down more petrification weapons, and decides that, with limited time, they must prepare for space travel.[18]
Following the revival of the American colony, the Kingdom Of Science inform Dr. Brody and the rest of Xeno's team about Why-man.[19]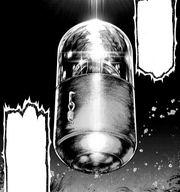 Upon creating a satellite, the Kingdom of Science scan the moon for Why-man. Using her keen eyesight, Kohaku spots a writhing dark mass on the moon from the satellite images, which Xeno confirms isn't normal. With this, they confirm Why-man's location.[20]
Once on the moon, the astronauts head towards the black mass they saw. On the way, Kohaku hears Senku ask her to open the capsule that's holding their only working Medusa. She begins doing so, but Stanley stops her, telling her that Senku didn't say anything: Why-man had tricked her.[21]
Why-man is revealed to be the petrification devices themselves.[22] After Senku requests to have a moment alone with the petrification devices, all but one agree to move on from humanity and seek out new hosts to parasitize. With only one left to humanity to study and further advance their civilization, Senku notes that this device out of all of its kind is interested in discovery as well as survival, which the rest of its kind did not share.[23]
Chapter Appearances
References
↑ Dr. Stone Manga: Chapter 95, Pages 20-23
↑ Dr. Stone Manga: Chapter 201, Page 7
↑ Dr. Stone Manga: Chapter 201, Page 11
↑ Dr. Stone Manga: Chapter 230, Page 19
↑ Dr. Stone Manga: Chapter 229, Page 16
↑ Dr. Stone Manga: Chapter 230, Page 11
↑ Dr. Stone Manga: Chapter 231, Pages 11-16
↑ Dr. Stone Manga: Chapter 95, Pages 17-18
↑ Dr. Stone Manga: Chapter 96, Page 7
↑ Dr. Stone Manga: Chapter 102, Page 3
↑ Dr. Stone Manga: Chapter 138
↑ Dr. Stone Manga: Chapter 139, Pages 17 - 18
↑ Dr. Stone Manga: Chapter 143
↑ Dr. Stone Manga: Chapter 170
↑ Dr. Stone Manga: Chapter 191
↑ Dr. Stone Manga: Chapter 198
↑ Dr. Stone Manga: Chapter 199
↑ Dr. Stone Manga: Chapter 201
↑ Dr. Stone Manga: Chapter 206
↑ Dr. Stone Manga: Chapter 216
↑ Dr. Stone Manga: Chapter 227
↑ Dr. Stone Manga: Chapter 228
↑ Dr. Stone Manga: Chapter 231