The Vs. Hyoga Arc is the sixth arc of Dr. Stone and the first arc of the Stone Wars Saga
Summary
Hyoga's Attack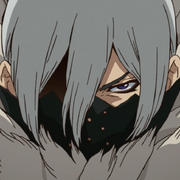 During the festivities, Kinro notices something amiss and instructs his brother to warn the village.
At the same time, Gen is warning Senku about a new warrior that Tsukasa revived and he is called Hyoga and is just as deadly as Tsukasa. Ginro then warns the others of the village attack. Surely enough, Hyoga has led members of the Empire of Might to attack Ishigami Village. Kinro easily defeats the lackeys, as Hyoga enters the fray and easily overwhelms Kinro, as the others arrives. The wounded guard begs for his brother to destroy the bridge, but Ginro refused. However, Senku quickly creates a firearm and Gen uses Magma to fuel the bluff. Hyoga and his group are forced to retreat, because of Gen telling them of the Kingdom's development. Hyoga is amazed to actually meet the still living Senku and by the fact that he creating a firearm to combat Tsukasa.
Knowing Hyoga will likely return during a storm at urging of Gen, Senku makes a pair of glasses for Kinro and prepares to make a new weapon for the warriors.[1]
Clash of Kingdoms
During Hyoga's second assault on the village, Hyoga's group are ambushed by the village warriors using Japanese Katana's which were forged by Kaseki. Using the new weapons, they are able to cut through the weapons of the Empire of Might.
Impressed that they created swords, Hyoga watches as they overpowered his men. Deciding to end things, Hyoga faced off against the three strongest members: Magma, Kohaku, and Kinro. Hyoga was holding off all the fighters until his spear fell apart, it was revealed that Gen double-crossed him and rigged all of their weapons.[2]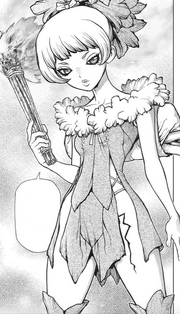 Undaunted by his spear's destruction, Hyoga revealed his trump card, which was his lieutenant Homura Momiji setting the village ablaze. This act causes the villagers to flee, as Homura easily evades attacks from the warriors to rejoin her allies.
Hyoga's group decided to take a captive in the form of Suika who leads them far from the village but were blocked off after they came into paths of poison gas. Senku and Kohaku collected Suika while Senku takes in creation of the gas' creation.
Wanting to test the theory, Hyoga kicked his lackeys into the gas and they died, confirming the gas was real. Hyoga decides to fall back to alert Tsukasa of the village's developments.
Meanwhile, Kokuyo announces that though the Ishigami Village have lost their homes, they celebrate victory in the first battle of the war.
Characters Introduced
Story Impact
The Stone Wars officially begin.
The second in command of the Tsukasa Empire, Hyoga appears.

Hyoga's right hand is named Homura.

Tsukasa learns Senku is alive.

Tsukasa plans to launch an invasion on the Kingdom of Science in the winter.

Gen Asagiri officially joins the Kingdom of Science.
The Kingdom of Science gains iron weapons and swords.

Kinro also gets a set of glasses.
References