Spider-Man: No Way Home Trailer Dropped - The Loop
Play Sound
Tetsuya Kinomoto (基本 徹夜, Kinomoto Tetsuya) or Mr. Mangaka is a modern member of the Kingdom of Science. Prior to the Petrification, he was formerly a mangaka artist. He now draws for the kingdom of science and isn't very good at anything other than drawing.
Appearance
Tetsuya is a short man with extremely short hair and an egg-shaped petrification mark on his scalp. He has large round eyes and heavy dark rings under his eyes, probably from lack of sleep. His nose is wide and flat, and his eyebrows are small and thin. His ears are also very round and protrude quite a lot, giving him a slightly monkey-like appearance.
He wears a bowtie and plain short-sleeved shirt with no buttons and tied at the waist with a bow. His pants are slightly cropped, exposing his leg mid-calf. He's also got leather shoes with dark soles.
Personality
Tetsuya is very dedicated to his former occupation as an artist, the very thing he did after reviving was ask about his project deadline, unaware of the centuries that passed.
Due to his drawing of manga, he picked up on the many elements in real life. This was seen when he identified the tactics of Senku, Ryusui, and Stanley's soldiers in the aerial battle.
Abilities and Skills
Drawing Abilities: As a Mangaka, Tetsuya is a pretty talented artist. There's several instances in which he's done work for the Kingdom of Science, such as when he drew them a detailed map of the forest by the river[6], and created them a sign with the help of Namari. When Ryusui created currency, Tetsuya was seen selling people their own manga, that even moved some to tears[7].
All-Nighter Skills: Tetsuya scored a perfect 5/5 for All-Nighter Skills on his worker file, and even from his design, its clear Tetsuya has a great lack of sleep. When Tetsuya awoke, he was incredibly worried about his deadline[8], so it can be assumed that Tetsuya has spent his sleepless nights drawing manga.
Esoteric Knowledge: In his years of drawing manga, he has come to draw many different types of genres. And in doing so, he has picked up little bits of knowledge in these fields. This is shown when he comments on why the planes are circling each other, due to having drawn a military series before[9]. He also later comments on the faxing by saying how another Manga artist used a similar technique to draw manga abroad[10].

Weaknesses
Deadlines: Upon waking up, Tetsuya immediately fears for his deadlines, and doesn't even notice how much time has passed, showing how important the deadlines are to him.
Tiredness: Tetsuya suffers from massive bags under eyes, which have been caused by the many all-nighters he has taken in order to finish his deadlines.
Low Earnability: According to Tetsuya's worker file, he scores a 1/5 in earnability. Despite working so hard to complete his deadlines, he still wouldn't get recognised.
It would seem that with the coming of the Stone World, a lot of Tetsuya's problems ceased.
Stats
Manga Power

 

4/5 B
Earnability

 

1/5 E
All-Nighter Skills

 

5/5 A
Tetsuya's stats, according to Volume 10
History
In the pre-petrifaction world, Tetsuya worked as a mangaka, and was seemingly considered to be pretty good at what he does, at least by the people who recognised him and his talents. In his worker file, it states that he's rather skilled at drawing, although he's not much good at anything else, and even scored a 4/5 in his drawing ability, which in itself goes to show how talented he is at drawing. Despite his skills in drawing, however, he made very little profit from his work, scoring a 1/5 for earnability, however it appears Gen had come to know of him at some point as he's the one who gave Tetusya paper to begin working on manga again.
In the old world, it would seem Tetsuya was extremely overworked, constantly having deadlines to finish his work by. It would appear that Tetsuya had spent many sleepless nights working to complete his deadlines, as he scored a 5/5 in all-nighter skills. Over the years all these all-nighters would take a toll on Tetsuya, eventually having incredibly large bags form under his eyes, and would go on to become one of his defining features.
Throughout his life, Tetsuya would work on many different genres and series of manga's, one named example being a military series titled 'WW4'. While working on these series, Tetsuya would pick up little titbits of information and fun facts on said genre, and can even recall said facts 3700 years later. Alongside his knowledge on these other genres, Tetsuya would also pick up facts about other mangakas, such as Osamu Tezuka.
When he was petrified, Tetsuya was working on yet another one of his deadlines, and his final position before petrification would be him working hard to complete his work by his deadline.
Synopsis
Tetsuya's statue was recrafted by Yuzuriha Ogawa before he was revived. He panics at missing his deadline until he is told of how much time passed. Gen Asagiri tasked him with recreating entertainment on paper.[8]
Tetsuya began creating manga to pass the time, something the modern timers enjoyed.[7]
Tetsuya was tasked by Magma to draw a design for a boat, in which the Kingdom of Science would sail on to find supplies for the Revival Fluid.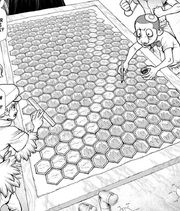 While in America, Tetsuya drew a detailed layout of the forest, Perseus, and distance to the enemy castle. Matsukaze remarked that his actions made the plan more easy to follow.[6]
Tetsuya later witnessed the aerial battle of Senku, Ryusui, and a member of Stanley's unit. Minami remarked that he was oddly talkative now.[9] Throughout the battle Tetsuya would make remarks about the aerial battle, such as being impressed by the piloting skills on display.
When Senku sends a message in Morse code, Tetsuya remarks on how another manga artist did the same while abroad.[10]
Tetsuya would be petrified when the Kingdom of science in America were able to activate the petrification weapon.[11]
Chapter Appearances
Trivia
His name is spelt using the characters for 'basic' (基本) and 'all night' (徹夜).
He has drawn a military series before titled 'WW4'
References