Ruri (ルリ, Ruri) is a descendant of modern-day humans. She is Kohaku's elder sister and the daughter of Kokuyo, and serves as the priestess in Ishigami Village.
Appearance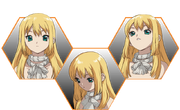 Ruri is a young woman with a delicate face, long blonde hair, and green eyes. She appears to have a mix of Japanese and American descent, denoting her heritage as a descendant of Byakuya Ishigami and Lillian Weinberg. She shares similar facial features with her younger sister, Kohaku, but has longer, manageable hair and a more curvy body type; Ginro crudely pointed out that Ruri has bigger breasts than Kohaku.
She wears a primitively-made purple sundress and a rope around her neck. When Yuzuriha built a fashion store, Ruri wore a more modern dress.[9]
Personality
Ruri is a kind, gentle and demure young woman with a submissive personality, as she was fine with marrying whoever won the Grand Bout. This was perhaps due to her illness and frailty; she was resigned to her fate of a short life.[10]
When Kohaku shows up right after being rescued from under the fallen tree by Senku, she notices something off with how her ponytail is tied, and concludes some accident must've happened. She then pleads Kohaku not to push herself for her own sake, showing that she cares much about her sister's well-being, despite her own health being in a rapidly deteriorating state.
When she learned of Senku's presence in the village, she showed curiosity and a keen memory, his name managing to stir up memories of one of Ishigami Village's stories.
After making a full recovery from her illness, Ruri is shown to be more optimistic and positive and even shows a more tomboyish side, immediately making a full dash running around the village. Despite this, she is still much more feminine than Kohaku.
She also displays a more assertive side, at one point shoving Minami towards Tsukasa so she could join the happy reunion, despite Minami's initial hesitation as she felt Mirai (as Tsukasa's biological sister) had precedence.[11]
Abilities
Ruri's position as the village priestess has meant that she has had to practice some degree of leadership (though she is subject to the rules of her religious duty, as well as the chief to a great degree). This can be seen for instance, when she quickly issues commands to Jasper and Turquoise when the village is attacked by Homura. In the anime, it was elaborated that it was her who told Kokuyo to pass his position of chief onto Senku.
Ruri is shown to share some of Kohaku's athletic prowess, as her first instinct when she is cured is to sprint off into a field at high speed. Kaseki comments that she has done so many times in the past. She is also strong, as she easily picked up her sister just after reviving.
She is very observant, as she was able to tell Kohaku went through some kind of turmoil, by taking note of how her hair was tied slightly differently, something most wouldn't have noticed. She also took note of Minami's affection for Tsukasa.
Besides her athletic capabilities, she also has some degree of fine motor skills, as it was pointed out that sewing clothes is one of the activities Ruri keeps herself occupied with, providing her sewing needle made of bone to be used as the stylus for a record player. Previously she had also helped Gen craft the hundreds of carbon-zinc cells used in the batteries for the cellphone.
History
Ruri was born to the Village Chief in Ishigami Village roughly eighteen years prior to Senku's arrival to the village. During her childhood, Ruri would hear tales of Senku Ishigami and how he is meant to save the village.
As a child she befriended Chrome, with whom she spent a lot of time playing outdoors with. She contracted Pneumonia at this age, and was told by the village elders that she wouldn't live long. Chrome promised her that he would search everywhere and turn every stone in the search for a cure, while Kohaku tried helping her illness by manually carrying hot spring water for her to bathe in; something that really helped slow it's progress as Senku later explained, and probably being the reason she managed to survive so long with the illness into adulthood.
Synopsis
She is introduced as the village priestess. As Kohaku brings her water, she is questioned for not showing up the previous night, to which she lies saying she fell asleep in the forest, and gets berated by Turquoise on her carelessness; Ruri then requests the two leave the sisters alone. The two refuse, saying they can't leave the priestess on her own - to which Ruri pleads by bowing. As the two finally leave, Ruri scolds Kohaku since she deduces something must've happened to cause Kohaku's ponytail to come unbound. She then tells Kohaku to not push herself so much for her sake, since she's destined to die soon anyway.[10]
Once Senku finally steps foot into the village, Ruri recalls his name being familiar.[12] She approaches Senku and asks what his family name is, most villagers not knowing what that means. When she mutters the first few letters of Senku's surname, she collapses, weakened from her disease.[13]
Ruri is relieved to see Chrome win the battle against Magma. Ginro takes note that he is aware Ruri wants Chrome to win and that she shouldn't worry as Senku will surrender the match. Out of respect for her position, the priestess states that she doesn't possess such desires and that since this is a divine festival, she will accept whomever wins the competition. A confused Ginro then wrongly concludes that she is indeed fine with any winner and maniacally attacks Senku, only to be defeated and thrown out of the competition. Senku them moves into the finals, where Chrome faints due to his previous fight with Magma, thereby making Senku the winner, much to Ruri's shock.[14]
After Senku won the Village tournament by accident (he was supposed to surrender to Chrome, who fainted from his last match), he was in the position where he would be crowned chief and take over the village if he chose to marry Ruri, and much to her shock, he does without hesitation. A few minutes later, she starts coughing blood into her hands. Noting that they must finish the medicine as soon as possible, Senku calls all the science team to leave with him back to the lab; but when Genbu stops him saying they must celebrate his wedding, Senku, with just as little hesitation, demands a divorce. Shocked and astonished, her and the villagers watch as Senku and company flee the scene, taking them the wine and vinegar the villagers had brought out. Ruri pointed out that to her knowledge, she was the first ever divorced priestess.
After Senku diagnosed Ruri with pneumonia, she was willing to take the risk of modern-day medicine, consuming antibiotics for the first time.[15] After swallowing the antibiotic Senku gave her, she is inspected by the latter who concludes there is a fluid buildup in her lungs. A little while later, her condition suddenly turns to worse, with Jasper commenting that he has never seen her in such a state. Kokuyo blames Senku on her current condition and grabs him. Senku agrees that the sulfa drug could have caused her to get sicker; shocking the group at first. However, he goes on to explain that the targeted bacteria is mobilizing more reinforcements now that its existence is threatened, a special ability of streptococcus pneumoniae.
Senku declares victory over the pathogen as the drug they made will kill the bacteria. Kokuyo frustratingly attacks Senku again, only to be stopped by Kohaku, who states that she believes in science and in Senku. The rest of the group nods in unison. After taking continuous doses of the drug, Ruri eventually overcomes the disease, being able to walk normally again. Kokuyo and Kohaku cry tears of happiness as Ruri celebrates her recovery by running, having forgotten the last time she stepped out of the village or was active at all.[16]
Once Kokuyo accepts Senku as the new village chief, the latter comes to know the name of the village being Ishigami. He is then approached by Ruri who informs Senku she's always known his full name - that being Senku Ishigami.[17] Ruri reveals that Ishigami Village was founded by Byakuya Ishigami and his crew, and Senku Ishigami is widely famous amongst the village community throughout every generation, as Ruri fully remembered her mother's story about Senku - the last of the hundred tales passed throughout the village's generations.[18] Her explanation causes Senku to understand why there are still humans around.
She tells Chrome, Kohaku and Senku about this tale, then as they celebrate, she leads Senku to the village cementery, where he is presented with Byakuya's grave marker, brought over from the island they landed in. She lets senku know the last part of the story she doesn't usually tell, a message to Senku from Byakuya. Once she conveys the tale, she leaves Senku alone at his father's grave while shedding a tear herself.[19]
When Homura sets the village ablaze, Ruri tells the worried Jasper and Turquoise to forget her and rescue the children.[20] She enjoys the wonders of a new sweet called cotton candy made by Senku along with her sister. As Senku goads Homura into trying the candy, Ruri recognizes that Senku didn't offer her such pleasure purely for strategic purposes, but also for comfort as she was spying on them all alone for exceedingly long periods of time.[21]
Ruri is present when Senku creates cotton candy and is amazed by the taste.[22] She aids in making batteries and is seen helping create wine.[23] The priestess is seen once again, now admiring the newly brought jewels from Senku, Chrome and Magma's cave expedition.[24]
When the phone is complete, the village tried to encourage Chrome to confess his feelings to Ruri through the stone world's first telephone call, though he instead cheers to her about how great science is, and this brings a smile to her. After comparing Senku's phone to a bee and telling him a tale about a bee communicating with the dead, he realizes that Byakuya left a recording message for him.[25]
Once the record player is made, Ruri is amazed by hearing the recording of Senku's father and the song sung by Lillian Weinberg.[26]
Ruri is encouraged by Ginro to confess to Chrome, she blushes at the notion and tries to go through with it but fails because of their call being interrupted by Why-man's debut.[27]
Ruri is amazed to see Ginro jump into the ocean, despite previously refusing to go.[3]
Senku previously asked Ruri about the 100 tales and she bores him with most of them. Very soon, she tells him about the islanders where the founders originally landed.[28]
While on route to Treasure Island, the Perseus crew contact Japan and update the people who stayed behind on there being other Stone World humans elsewhere. Ruri was amazed by the possibility and deduced they may be distant relatives of a branch who set for Japan.[29]
After the conflict on Treasure Island is done, Ruri soon contacts Senku and he updates her.[30]
Ruri is happy when the Perseus returns and to see that the modern people have lost their scars, meaning they found the secret of Petrification. Indeed, Chrome reveals the Petrification Weapon and Ruri remarks that the dreaded petrification can now be used to heal everyone. After Tsukasa is revived, she watches Minami choose to let him reunite with his sister first but Ruri pushed her into talking to him, while Nikki notes on Ruri's assertive nature.[11]
She witnesses the Petrification beam heading over the horizon. Her father then has her and the villagers curl into a defensive position so they will not be damaged while petrified. She is then petrified with the villagers.[31]
Nine years after petrifying, Ruri and the others were revived by the returning members of the Kingdom of Science. She picks up her sister in their reunion, while Kohaku comments she hasn't changed a bit. Ruri reunites with Chrome (who was punished by Kohaku for calling them gorillas) and is hopeful when he talks with her but takes it in stride at his usual obliviousness. She soon explains she and the others did not create the wall, which protected the petrified villagers before it is revealed that it was made by Sagara and Chalk.[5]
Chapter Appearances
Trivia
Her name Ruri is the Japanese word for Lapis Lazuli. It is a type of metamorphic rock of an intense blue color, that in many cultures was associated with the heavens and the divine, such as in ancient egypt where it was used in a variety of items such as amulets and figurines, and early christians considered it to be the stone of virgin Mary.[32]
She appears to be rather popular as Chrome, Magma, Ginro, and Kinro have all shown an attraction towards her (or at least an interest in marrying her) though she married Senku (for only three minutes before he divorced her due to his lack of interest in romance).

Chrome's feelings are the most sincere and genuine (though the romantic qualities of them remain ambiguous for most of the story) and it is implied in later chapters that she in fact reciprocates his feelings.
Magma was interested in marrying her in order to become the new village chief, and initially it seemed that he saw her more like a trophy of his victory (even going as far as considering taking both sisters as his wives), but he changed his mind later when seeing how deteriorated her health was, instead planning to kill her once he's taken the position of chief.
Ginro lusted after her, quite obviously and everyone cheered for Senku after he beat him.
Kinro likely had more noble motives, as he agreed to do it after having Kohaku explain her motives to him.

Her illness was initially unknown. Senku deduced based on how her lungs sounded that she had liquid in her lungs. After dissecting a rat that was found dead near her living space, he further diagnosed that the inflamation in her lungs was caused by bacteria that's also infecting the rats. After Senku made an antibiotic (sulfanilamide) to cure her illness and she had an adverse reaction where the bacteria started to act up by horizontal gene transfer (making other inoffensive bacteria in her lungs infectious by passing some of its genes into them), Senku identified this phenomenon as a signature move of Streptococcus Pneumoniae, the bacteria that causes pneumonia, and which can be treated with sulfanilamides.[33]
A recurring gag involves her and Senku's previous marriage and divorce being referenced:

When Hyoga approaches Senku to form a partnership, Senku tries to brush it off by asking if it was his version of an awkward love confession and then states how he is married (and then corrects that he is now divorced).
When Amaryllis asks about Chrome's relationship with Ruri, Francois points out that Ruri was once married to Senku before Senku divorced her, shocking Taiju and Amaryllis.
When Luna asks Francois about dating Senku, Kinro brings up how Senku is a divorcé, to her shock.

She and her sister were originally two years apart but thanks to the second petrification event they are now the same age biologically.
Ruri's English voice actress is currently engaged to Ryusui's voice actor.
References
↑ 3.0 3.1 Dr. Stone Manga: Chapter 99
↑ Dr. Stone Manga: Chapter 216
↑ 5.0 5.1 5.2 5.3 Dr. Stone Manga: Chapter 212
↑ 6.0 6.1 Dr. Stone: Kingdom of Science Encyclopedia, Page 64
↑ Dr. Stone Manga: Chapter 193, Page 11, Ruri is petrified along with the rest of the world.
↑ Dr. Stone Manga: Chapter 87, Page 16
↑ 10.0 10.1 Dr. Stone Manga: Chapter 19, Page 12
↑ 11.0 11.1 Dr. Stone Manga: Chapter 141, Page 11
↑ Dr. Stone Manga: Chapter 33, Page 18
↑ Dr. Stone Manga: Chapter 34, Page 4
↑ Dr. Stone Manga: Chapter 39, Page 19
↑ Dr. Stone Manga: Chapter 40, Page 23
↑ Dr. Stone Manga: Chapter 41, Page 17
↑ Dr. Stone Manga: Chapter 41, Page 19
↑ Dr. Stone Manga: Chapter 42, Page 3
↑ Dr. Stone Manga: Chapter 45, Page 15
↑ Dr. Stone Manga: Chapter 49, Page 4
↑ Dr. Stone Manga: Chapter 51, Page 18
↑ Dr. Stone Manga: Chapter 51, Page 12
↑ Dr. Stone Manga: Chapter 53, Page 11
↑ Dr. Stone Manga: Chapter 57, Page 2
↑ Dr. Stone Manga: Chapter 59, Page 11
↑ Dr. Stone Manga: Chapter 60, Page 12
↑ Dr. Stone Manga: Chapter 95, Pages 20 - 23
↑ Dr. Stone Manga: Chapter 100, Page 25
↑ Dr. Stone Manga: Chapter 102, Page 2
↑ Dr. Stone Manga: Chapter 138, Page 14
↑ Dr. Stone Manga: Chapter 192, Page 21
↑ Lapislazuli on Wikipedia
↑ Dr. Stone Manga: Chapter 41