The
Perseus
is a ship created by the
Kingdom of Science
. Constructed over the course of a year, the Kingdom aims to use it to sail to
South America
in order to identify the origins of the
Petrification
.
The construction of the Perseus is a major focus of the Age of Exploration Arc.
History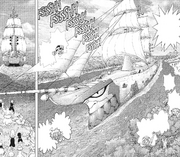 After defeating Tsukasa and the his empire, Senku and the Kingdom of Science set their sights on discovering the cause of the Petrification. Believing that the answer to this mystery lies in South America, they begin to develop a ship capable of crossing the Pacific Ocean.
Senku develops the schematics for the Perseus. (Several other members of the Kingdom of Science develop alternative concepts, including Yo and Magma.) Ryusui leads the construction of the project, ultimately becoming its captain upon completion. The construction of the ship takes approximately a year to complete. On the year 5741, it is finally complete and sets sail to Treasure Island.
During its time on Treasure Island, it is attacked by Kirisame, resulting in most of them being petrified. It is subsequently ransacked by Ibara and his forces, while left ashore by them.
Following the defeat of Ibara, the Kingdom of Science regain their ship and fix the damage done by Ibara. They receive a transmission from the Whyman and deduce he's on the moon, with Senku deciding to sail the Perseus across the world to gather materials and travel to space.[1] The crew gain two new members Kirisame and Matsukaze, while Soyuz stays and becomes the leader of Treasure Island. The Perseus leaves the island after making Treasure Island a part of the Kingdom of Science.[2]
They sail back to Ishigami Village where they revive Tsukasa, before they set off for America
After forty days of sailing, the Perseus arrives in San Francisco, where they divide into two groups with the warrior team following the exploration crew and the rest stay with the ship. [3]
Gallery
Crew
Perseus's Crew
Captain
Ships Engineer
Radars and Sonar
Cook
Power Team
Miscellaneous Crew
Prisoners
Trivia
The Perseus is named after the Greek mythological hero, Perseus. In myth, Perseus is tasked with slaying the mortal Gorgon, Medusa, whose gaze turned people to stone.

The name Perseus translates roughly to "The Avenger" in English.

So far, the sleeping quarters have not been shown.
References
↑ Dr. Stone Manga: Chapter 139
↑ Dr. Stone Manga: Chapter 140
↑ Dr. Stone Manga: Chapter 148, Pages 14 -19
Community content is available under
CC-BY-SA
unless otherwise noted.