Spider-Man: No Way Home Trailer Dropped - The Loop
Play Sound
Mirai Shishio (獅子王 未来, Shishiō Mirai) is the little sister of Tsukasa Shishio.
Appearance
Mirai is a petite girl just a little older than Suika. Her petrification scar is a jagged line in the shape of a halo around the crown of her head. Her primary outfit is similar to Yuzuriha's for having been designed to be put on her before she was depetrified; hence all the straps and odd collar.
Personality
She is loyal to her brother, as after hearing the story of how he tended to her, she sought to repay it by staying by his side.
As she is still a child, she has a natural curiosity and gets excited by new things. This was seen when she took part in the Kingdom of Science's way of life with inventions.
History
Mirai was clinically brain dead prior to the Petrification due to a car accident. Her brother Tsukasa refused to give up on her and took on his MMA matches to keep paying the medical bills that kept her on life support.
Along with the rest of humanity, Mirai would be petrified for thousands of years.
Synopsis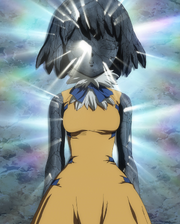 Her statue is discovered by Tsukasa after he agrees to a ceasefire with Senku as part of a deal with her brother to end the war.[9] Senku had a theory that the Petrification could heal any wound and that the restoration formula would bring her back in full health. This proved to be true as she was fully restored and fully healthy when she woke up from the stone. She recognizes her brother, despite him now having become much older. Tsukasa tells her long she was petrified and embraces her. Unfortunately, the happiness is cut short by Hyoga's betrayal and Tsukasa takes a blow meant for Mirai. Mirai is horrified to watch her brother be critically wounded.[10]
She was saddened to see her brother wounded but plans to wait for him.[11]
True to her word, Mirai stays by the cave where her comatose brother is. Mirai is surprised when Yuzuriha catches her before she explains her reasons. She was also disturbed to watch Senku perform a medical procedure on Tsukasa. [12]
She is present when Senku and his group return with Ryusui Nanami.
She is particularly delighted by the restoration of money, opening a cotton candy store for people to spend the money. She makes a new friend out of Suika, who is delighted by her company.[13]
When Yuzuriha built a fashion store, Mirai was surprised by the prices of the modern outfits.[14]
After the Perseus sets sail, she is present when the crew go off on their voyage.
When the Perseus returns, Mirai is happy that everyone has lost their scars, since it meant they could cure her brother. When Mirai meets her brother, she clutches the Petrification Weapon before the others appear and clutch it too, shocking her. Minami voices they might crush her hand, though Mirai is unconcerned only wishing for her brother's safety. Surely enough, the weapon is activated and Tsukasa is petrified by Senku who wastes no time reviving him. Seeing her brother healed and on his feet, Mirai shed tears of joy at seeing him on his feet and he pats her head.[15]
After the Perseus crew set sail for America, Mirai is one of the few to stay behind in Japan. She aids Ruri in delivering the time to the crew, while being amazed by the many hourglasses.[16]
Following the second Petrification Event, Mirai was told by the Ishigami Villagers to assume a defensive position so that her statue would not break. After the beam hits, Mirai was petrified along with everyone else. Chalk tries to interact with the petrified Mirai but sulks when she does not respond.[17]
Relationships
Tsukasa is Mirai's beloved older brother.
They seemed to have been very close but because of her accident, Mirai was left in a coma. However, Tsukasa refused to give up on her and supporter her by fighting in MMA matches to keep paying the medical bills that kept her on life support.
Thousands of years after the Petrification, Tsukasa still cared about her and was hopeful when Senku promised to depetrify her and states it will heal her condition. Tsukasa accepted the deal on the condition of a ceasefire.
When Mirai awoke, she recognized Tsukasa as her brother now older, while he was extremely happy when she was fully restored and healthy after she woke up from the stone. Their reunion was short-lived, due to Hyoga. Mirai was horrified when her brother took a blow for her.
After Hyoga was defeated, Mirai decided to return her brother's loyalty to her by staying by his side after he went into stasis and plans to wait for him.
During his second revival, Mirai shed tears of joy at seeing him on his feet.[15]
Chapter Appearances
Trivia
The name "Mirai" literally means future, "mirai" (

未来

future

), while Shishio is composed of "shishi" (

獅子

lion

) and "ō" (

王

king

) to create "shishiō" (

獅子王

lion king

).
The likely reason Mirai remained short during her coma was due to her brain not being able to release any growth hormone from the pituitary gland
Mirai likely is only slightly more educated than post-petrification humans; due the fact she became comatose around the age she would have begun attending school.
References