'What we see with our eyes doesn't matter. These radio waves will detect anything out of the ordinary. You cant hide from radar! From the eyes of science!'

— Leonard, Chapter 181
Leonard (レナード, Renādo) is a member of the American Colony and one of Stanley Snyder's men. He operates the radar and any other communication technology in Stanley's unit.
Appearance
Leonard is a tall, sinewy man with a rather severe expression. His face is gaunt, with deep cheekbones. He has large but narrow eyes, with very small pupils in the shape of a PPI radar display. He has a large hooked nose with thin lips and a fairly deep mentolabial fold. He does not have eyebrows. His hair is long and wiry, fanning out in black dreadlocks away from his face, with his hairline accentuating the jagged lines of his petrification scar. The scar itself is similar to the shape of his pupils; two concentric circles centred on his glabella, with mostly-symmetrical cracks coming from the outer circle at the positions of hours on a clock face.
His outfit is consists of a black, skin-tight, short-sleeved shirt, black gloves, baggy black pants, a wide belt, a skirt with the American colony's particular zig-zag hem, and white boots that reach mid-shin. He also seems to have two black bands above his biceps matching his t-shirt, possibly indicating that he's wearing it off-the-shoulder. Like the rest of the Stanley's squad, he's also got oversized metal shoulder pads with tassels draping over the top of his torso. Below it, he's also got the zig-zag metal collar.
Personality
Leonard is serious and dedicated to his job as the main operator of any communication equipment for Stanley's troop. He is extremely vigilant, making sure he doesn't miss any radar activity and keeping a constant ear on the radio waves.
He answers most questions bluntly, directly, and informatively, befitting of a trained soldier. Despite that, it's still possible to get his façade to crack: the sudden increase in speed of the motorboat the scientists were escaping on caused him to be unable to finish his sentences properly[4] and most unexpected things they've done have caused him to raise his voice in alarm.[5]
Abilities and Skills
Radar: prior to petrification, Leonard's job was as a military radar operator. As such, he's at least on-par with Ukyo's tracking skills using the equipment on the Perseus.
Marksmanship: Leonard is shown to be able to pin point the exact location of the Kingdom of Science on a map with a dart, showing he possesses very keen senses.
Piloting: Leonard is shown to be flying the small plane when following the motorcycle trails.[6]
Mental Resilience: Among the select few that are mentally strong enough to withstand the millennia-long effects of the Petrification, Leonard possesses an extreme amount of determination.
Synopsis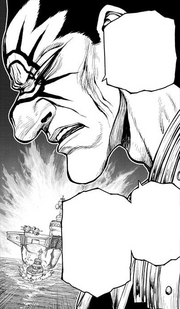 Leonard is introduced sitting in Ukyo's usual seat on the Perseus; the radar controls. Rather dramatically, he tracks and pinpoints the escaping Kingdom of Science members by throwing a dart onto a map behind him. He seems to be quietly impressed with the radar setup on the Perseus, and uses it to say that they'll catch up with the smaller ship by nightfall. Some time later, he's shocked by the sudden increase in speed of the other boat thanks to their sail.[7] Due to his keen eye, Leonard notices when the signal he's tracking splits into two, relaying the information to the others.[8] They choose to follow the blip heading towards the Panama Canal, and Leonard shouts out when they should have visual on the ship. Turns out it was a decoy without anyone aboard, so they quickly return to tailing the south-bound vessel.[9]
Catching up to the kidnappers, Leonard attempts to give chase in the airplane they took back from the Kingdom. Unfortunately, Senku had filled the engine with sugar causing it to fail midair. The plane crashes next to the escaping motorbikes, Leonard tucking and rolling to avoid injury.[10] Once the plane is fixed, Leonard sets out once more but this time in the pilots seat with Stanley riding behind him, out to find where the kidnappers are headed.[11] Since the motorbikes reach the Amazon jungle first, Leonard and Stanley are forced to turn back since Stanley can't snipe them through the canopy.[12]
Back on the Perseus, Leonard continues to surveil the radar equipment. He reassures the others, saying that it doesn't matter what the kidnappers are doing because they know that they're travelling down the Amazon river and that if they're on a boat, the radar is sure to pick them up.[13]
After Xeno messes with the Kingdom's transmission, Leonard notices and tells them it's definitely a hidden signal from Xeno as it's too regular to be natural, but doesn't know what about. Stanley uses his childhood-friend intuition to estimate what Xeno wanted to say, sending them to Araxá.[14] Once there, the group comes across Francois and captures them, after which Leonard informs them that Francois had sent a transmission before they had gotten caught. Francois replies that they sent "we've split into two teams" in Morse code to Corn City as a precaution.[15]
Leonard is the one who holds onto the communications, a very vital part of the battle. When Tsukasa, Hyoga and Kohaku arrive to the scene, they immediately deduce that destroying the communications will be the key to winning this war. After a short battle with Maya, and Hyoga and Tsukasa get taken out, Kohaku catches Leonard off guard and destroys the communications, to which Stanley is shocked that destroying it was their true goal.[16]
After the communications are destroyed, Leonard appears quite flustered about letting his guard down, hiding his face and shaking his head[17]. As the rest of the American Soldiers charge in for the attack under Stanley's orders, Leonard stays behind to keep watch of the hostages, likely due to not being a fighter. Leonard alongside the hostages see as the Petrification Light begins shining on the horizon above the trees. Leonard is speechless at the prospect of a second worldwide petrification just like thousands of years ago and lets down his guard, giving Ukyo time to free the hostages. Leonard snaps back and notices that they have been freed but reacts too late as he is taken out by Matsukaze and Ginro. Leonard would go on to be petrified alongside the rest of his comrades as the petrification reaches the base.[1]
Chapter Appearances
Trivia
His name may have been inspired by the Japanese word for radar (レーダー rēdā).
Despite his skills being seemingly similar to Ukyo's, Leonard specializes in radar (electromagnetic waves) while Ukyo specializes in sonar (acoustic waves). Both utilize the same scientific principles but the wave mediums differ.
Before his name was revealed, fans referred to him as "radarman".
Leonard does not appear to be a combatant like his fellow soldiers. During the battle in Araxa, Leonard takes a back seat from the fighting and keeps watch of their right flank[18], and when the soldiers charge into battle, Leonard stays behind and watches over the hostages. When forced into battle, he is taken out pretty easily[1].
References
Community content is available under
CC-BY-SA
unless otherwise noted.