Kaseki (カセキ, Kaseki) is the artisan of Ishigami Village. With expert skill and precision formed by his numerous years of experience as a craftsman[13], he is a key member of the Kingdom of Science, responsible for creating many of their scientific inventions.
Appearance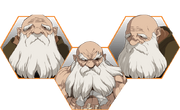 Kaseki is a short old man with a large, white beard. He's completely bald, with bushy white downturned eyebrows that get thicker towards the ends. His eyebrows normally cover his eyes, leaving only shadows visible. He has a large, bulbuous nose and slightly pointed ears. Marks of age cover his face: forehead creases, bags under his eyes, crow's feet and smile lines.
His outfit consists of a brown tunic and hood, similar to a Christian monk's habit. He has a pouch tied around his waist with his craftsman's tools held at the front. Like the rest of the villagers, he wears white platform sandals.
Although initially appearing to be frail, when fired up, he bursts through his clothes, revealing a muscular body. This transformation usually results in him wearing only the lower half of his outfit and showing off the village rope that is tied around his neck. During this transformation, his eyebrows furrow and tilt upwards, flaring at the ends, and leaving at least one eye visible.
Personality
Kaseki is an honest older man who is prideful in his work and skill as an artisan. Unassuming unless provoked, he displays boundless energy when excited about his work.
Originally wary of Senku, Kaseki quickly becomes a loyal and prominent member of the Kingdom of Science. His love for crafting since his childhood helps him form strong bonds with advocates of science. Having been relatively isolated for much of his life due to his interests, he now considers Senku and Chrome as close friends, despite their age differences.[14] He is alike to them in the fact Kaseki is passionate about his craft and despairs when it fails.
A genius craftsman, Kaseki picks up techniques with little effort. Upon seeing glass for the first time, he immediately understood how to work best with the material.[15]
As one of the oldest members of the Kingdom of Science, Kaseki is relatively wise. He often imparts wisdom on the other members, and is unafraid to admit his own shortcomings.[16]
Despite his pride, Kaseki often seeks external validation for his work, particularly from women.[17][18]
Abilities and Skills
Master Artisan: Kaseki is a master artisan with over fifty years of experience. He designed and built much of Ishigami Village, including the island's bridges. He also made Kohaku's shield, originally for her father Kokuyo as a reward for winning the village tournament and becoming chieftain. Kaseki picks up new techniques extremely quickly, inherently understanding how to use materials he's never seen before just from observing their physical properties. He can craft objects solely from Senku's diagrams with little practice. He's even able to create extremely complex structures, including engines and vacuum tubes. Senku admits that Kaseki's skills far surpass his own.
Intelligence: Along with Chrome, Kaseki is one of the original two members of Ishigami Village with scientific knowledge. He's shown to be extremely knowledgeable, particularly about crafting techniques.
Physical Abilities: Kaseki's physical abilities are high, despite his old age, due to his physically-demanding work, and they were further heightened after Kaseki was revived thanks to the healing properties of the petrifaction process. He is strong enough to tear through ropes. However, he has limited combat experience.
Chapter Appearances
Trivia
His name, Kaseki, is the Japanese word for fossil.

This seems to be a joke about his age.

Kaseki has a habit of ripping apart his clothes when he gets excited, even while wearing difficult-to-produce clothing crafted by Yuzuriha.
He ranked 9th in the 1st popularity poll and 14th in the second poll.
Kaseki appears to be particularly fond of their vehicles, as he is shown distraught when they give the first car an upgrade,[19] after they repurposed parts of the mobile lab,[20] when the mobile lab was eventually sacrificed,[21] and when the sunken Perseus was refloated only to be scrapped;[22] however he is usually comforted with the idea of them being rebuilt or recycled into something better.
Reference
↑ Dr. Stone Manga: Chapter 99, Page 18
↑ 4.0 4.1 Dr. Stone Manga: Chapter 197
↑ 5.0 5.1 Dr. Stone Manga: Chapter 178, Page 18
↑ Dr. Stone Manga: Chapter 103, Page 15, Kaseki is Petrified along with majority of the Perseus Crew.
↑ Dr. Stone Manga: Chapter 119, Page 6, Kaseki is revived by Senku.
↑ Dr. Stone Manga: Chapter 134, Page 4, Kaseki is shown to be petrified
↑ Dr. Stone Manga: Chapter 138, Page 7, Kaseki is revived again.
↑ Dr. Stone Manga: Chapter 192, Page 21, Kaseki is petrified along with the rest of the world.
↑ Dr. Stone Manga: Chapter 197, Page 6, Kaseki is revived by Senku.
↑ Dr. Stone Manga: Chapter 29, Page 12
↑ Dr. Stone Manga: Chapter 57, Page 11
↑ Dr. Stone Manga: Chapter 29, Page 11
↑ Dr. Stone Manga: Chapter 32, Pages 7-9
↑ Dr. Stone Manga: Chapter 40, Page 9
↑ Dr. Stone Manga: Chapter 46, Page 4
↑ Dr. Stone Manga: Chapter 70, Page 1
↑ Dr. Stone Manga: Chapter 116
↑ Dr. Stone Manga: Chapter 174, Page 9
↑ Dr. Stone Manga: Chapter 199, Page 6