Spider-Man: No Way Home Trailer Dropped - The Loop
Play Sound
Hagane (ハグネ, Hagane) is one of the villagers of Ishigami Village.
Appearance
Hagane is a man with thick untamed eyebrows, downturned eyes, short spiky hair, and a wide jaw with a very pronounced mentolabial fold. His hairline is a pronounced 'M' shape like many of the male villagers, possibly indicating slight balding.
He wears an outfit similar to Magma's: a dark blue shirt with a V-neck and cropped pants of the same colour. He has rope tied around his waist.
Abilities and Skills
He is able to fight using an axe, as he was using one wrapped in cloth during the first Grand Bout.[2]
History
Hagane is only shown in the Grand Bout flashback from several months before Senku came to the village. In it, he fights against Magma in the semi-finals and loses after being unable to stop a powerful swing from him.[2]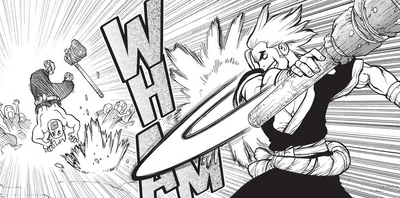 Chapter Appearances
Trivia
Hagane is named after steel.
He lost to Magma in the finale of the first Grand Bout after Ruri turned 18, then didn't attempt again.
References