Ganen (ガンエン, Ganen) is a villager from Ishigami Village. He is the son of Sagan and En.
Appearance
Ganen is a man with short blonde hair that sticks up at the front. He is slightly overweight and has a double chin. His eyes are small but round, and his eyebrows are small but thick and arched. He seems to take after his mother and is generally found smiling (unless he's being overworked by Senku).
Like most of the villagers, he wears a deep blue tunic with a rope around the waist. Similarly to his father, he also has a rope across his body, however Ganen's holds two leather pouches rather than being decorative.
Personality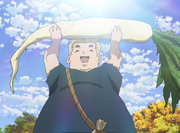 Ganen's first love is food. He is always looking for new sorts of food and is eager to try new ones.[1] He seems to be quite animated, his feelings usually showing on his face whether they be drooling over ramen or sobbing at how hard it is to work the furnace. He is friendly and trusting as well, as he had no problem with Senku's appearance at the village.
Abilities and Skills
Ganen is shown working the bellows on the iron furnace on several occasions. In addition, he is probably somewhat of a food tester for the village as Kujaku trusts his food judgement before trying the ramen.[2] He is also likely to be training to make alcohol under his father's supervision, as their family seems to house all the alcohol containers.
Synopsis
Ganen is first introduced when the villagers hear that an outsider has arrived at the village. He is shown being told tales of who Senku might be by Shovel and interpreting them in a worse way that she described.[3] The next time we see him, he is sitting in a hut with his parents, eating skewered fish over a fire and complaining that it's all they eat.[4] He then gets lured in by the smell of ramen and is delighted by this new food, until Senku tells them to start working the furnaces as payment.[5]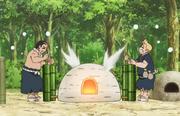 At the Grand Bout, Ganen is shown snacking on a kebab before the matches start, wondering what a 'last name' is when Ruri brings it up.[6] Later, before Ginro's match against Senku, he hears Ginro lauding his ideas for when he's Village Chief and agrees with the promise of all-you-can-eat ramen every day.[7] He is then shown helping Sagan carry the booze out to the victor and drooling.[8] During the celebration, he hangs out with Unmo and drinks heavily, insisting everyone be involved in the party and trying to drag Gen into the group.[9]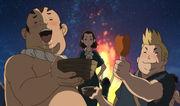 Ganen appears once more when Senku starts making cotton candy, drooling over how good it smells.[10] Later, he rejoices with the others when Gen informs them that the iron forge has been fully automated. Once bottling is taught to the villagers, Ganen marvels at the idea of meat being preserved over winter.[11] He then gets excited with the other men over the new car[12] and even later over the usefulness of a refrigerator.[13] After Restaurant Francois is created, Ganen is found pigging out at one of the tables.[14]
Relationships
Ganen seems to be quite close to Unmo, and is frequently shown doing things alongside him such as eating, drinking or working the furnace's bellows. Together, they make a jovial pair and are likely to be the life of the party.
Chapter Appearances
Trivia
The name 'Ganen' translates to halite, better known as rock salt. This is probably a reference to his gourmand habits.
References
Community content is available under
CC-BY-SA
unless otherwise noted.