Prison Break is the thirtieth episode of the Dr. Stone anime, and the sixth episode of the second season.
Summary
Desperate to escape his prisone confine, Chrome tries to stratergize a plan that will allow him to escape. However, surrounding his prison are traps and his new head jailer Yo is a former loose cannon police officer.
Plot Details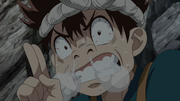 Before they charge into the Tsukasa Empire, Senku reviews over the plan, which is in fact really short. In preparation of an ambush made by Senku with a tank, Tsukasa enlists the help of Yo to deal with the situation. Yo before the petrification was a police officer with a natural talent with using a police baton. Chrome in the meanwhile, contemplates a strategy on how he can escape from his imprisonment, but fails to think of anything. It's then that Chrome sees his new jailer Yo disciplining a Tsukasa Empire goons and after he's finished, he reveals his story as a failed police officer. Yo was fired from his job because of his reckless and loose cannon attitude. Furthermore, Yo plans on becoming a 4th head honcho of the empire and he hopes to use his newly assigned task garnish favor with his superiors. Another thing to note is crush for the beautiful, Minami who he hopes will be impressed by his accomplishment allowing him to court her. One of the goons then points out that Chrome listened to everything Yo stated, but he thinks nothing of him. Frustrated by his predicament, Chrome re-vows to break out of his imprisonment.
During a bathroom break, Chrome collects a bunch of items for him to use to try and help with his escape. Nearly all of the items or worthless except for a bunch of sticks, to which, he tries to ignite, but fails. Later that night, Chrome gets a battery from what he suspects was by Taiju and Yuzuriha. Rigging the battery to his cage, Chrome unintentionally alarms the guards and is knocked backward by Yo. Terrified that Yo and the guards were going to figure out that he was possession of a battery. Yo and the guards instead misinterpret Chrome using twigs and sticks to try and start a fire as an attempt to escape his cage. Afterward, while contemplating an alternate strategy to escape, Chrome realizes he could use sodium hydroxide, to melt the ropes to the cage. So he works up a sweat and collects the sweat, to which, he electrifies, thus creating sodium hydroxide. As his guard sleeps, Chrome pours the concoction onto the cage ropes, causing them to loosen and break.
Chrome then makes his escape out of the prison and using a single bamboo stick, catapults himself to avoid any of the pit fall traps. He then manages to circumnavigate around all of the other hidden pit falls traps too. Eventually, a panic-stricken Yo learns about Chrome's escape and pursues him to a cliff by a waterfall. Having the upperhand against Chrome, Yo gives him two choices, return to his cell dead or alive. Left with no other choice, Chrome answers that it doesn't matter as he's going to die soon anyway and then vomits a bunch of blood. In his own words, Chrome confesses that he has pneumonia and sprays his blood onto Yo and taking advantage of Yo's flustered state, thrusts his bamboo stick into Yo's private area. Yo now incapacitated, Chrome makes his escape back to the camp where he reunites with the people of the Ishigami Village. It's also revealed there that the blood Chrome vomited was fake blood.
Characters
Locations
Inventions and Discoveries
Sodium Hypochlorite
Oxalic acid
Anime to Manga Differences
An extra scene was added about why Yo was revived where Minami says she'd interviewed him previously after his win for the baton category of the police martial arts competition.
The explanation of Yo's past was extended to him catching tax evaders, getting shot at while trying to apprehend them, and then getting disciplined and fired by his superiors for shooting the perpetrators.
Yo has also been given a minor crush on Minami, presumably for her looks.
The silhouette of the person rolling the battery to Chrome was shown.
The narration from the end of chapter 71 was turned into an extra scene where they discuss the science Chrome did to escape.
Trivia