Full Assault (全軍出撃, Sengun Shutsugeki) is the twenty-eighth episode of the Dr. Stone anime, and the fourth episode of the second season.
Summary
Chrome gets himself caught by Ukyo of the Tsukasa Empire, from there he's interrogated by Tsukasa and due to his loquacious nature, puts himself in a predicament. Back at the Ishigami Village, plans to create a car is announced and for the first plan of action is to create a steam engine to act as a motor.
Plot Details
Through the Cell Phone, Nikki didactically informs Senku and Gen that their Lillian impersonation is at best 55% accurate. However, with her on their side she can help them perfect it, but she still worries about Tsukasa and his followers. The two of whom they should keep their eyes on the most are Hyoga and Ukyo Saionji.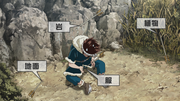 A brief explanation of Ukyo's capabilities are given by Nikki and his backstory is elaborated on by Gen as a submarine sonar operator. Meanwhile, Chrome and Magma continue to try and evade Ukyo's arrows being fired at them. Magma, figuring that he's already pin pointed Ukyo's location, rushes off to where he believes Ukyo is located at, and is put on a wild goose-chase. On the other hand, Chrome realizes that all of the arrows shot at them are from varied locations which is a tactic to make use of the smokescreen the two tried to use again Ukyo. Thinking scientifically, Chrome tries to figure out Ukyo's angle by firing off random arrows from different positions and concludes that his motive is to capture and interrogate them. Therefore, Chrome raises a white flag and surrenders himself to Ukyo, who then leads him back to the Empire to meet with Tsukasa. Once there, Chrome is questioned by Tsukasa, mainly about his relation to Senku.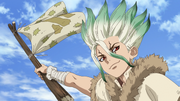 Magma rushes back to the Village and informs them all of Chrome's capture. In light of this Kohaku tries to run off and rescue Chrome, however, Senku stops her with a megaphone. With the Kingdom of Science flag in arm, Senku proclaims that all of the soldiers will mobilize and go after Chrome. Gathering and consolidating all of the kingdom's supplies in the center, Senku reveals that they're going to build a car. The first step to creating the car is by melting beeswax in order to carve the shape of the parts for the car (also using a basic lathe), so then moulds can be made from them and the parts made of metal using the moulds. Next a stove is fitted with a boiler and a steam engine. Enlu explains that it works like a pump in reverse. Although Kohaku is worried about Chrome, Senku is not worried about him, so long as he doesn't talk. Kohaku then rebuts that Senku's last comment is contrary to Chrome's personality, making Senku and everyone around him realize how doomed they maybe.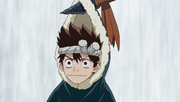 Meanwhile, back at the Tsukasa Empire, Chrome messes up and is held by a spear over a cliff by a waterfall. Hyogaholds the spear and presents Chrome with two choices, speak or die. Tsukasa also tries to reason with Chrome claiming science tainted and corrupted the old world and offers him a chance to join his empire. Despite sounding interested in the offer, Chrome still declines it and is dropped down the ravine below. At this moment, tsukasa signals Ukyo to shoot an arrow that pins chrome to a nearby tree log, stopping the fall. Tsukasa then launches a log by hand, which lands near where Chrome is hanging in order to make a route to retrieve him. Ukyo is then asked by Tsukasa where he originally found Chrome, but he lies that Chrome was found when he was investigating the Cave of Miracles. This leaves Chrome astounded by Ukyo's motives.
Returning to the village, the villagers complete a functioning steam powered vehicle.
Characters
Locations
Inventions and Discoveries
Anime to Manga Differences
Elaborated on the Industrial Revolution theme by adding Gen, Kinro, Ginro, Suika, Kaseki, Magma, Kohaku and Senku in themed outfits.
Trivia