Doctor Strange in The Multiverse o Madness - The Loop
Play Sound
Hot Line is the twenty-sixth episode of the Dr. Stone anime, and the second episode of the second season.
Summary
In order to get in contact with Taiju and Yuzuriha who are infiltrating the Tsukasa Empire, Gen's group performs a dangerous mission to place a cell phone in certain location. All while this is happening, Gen's group is pursued by the empire's scout Homura.
Plot Details
As Magma, Gen, and Chrome take advantage of the detonating Sonic Bombs, Magma complains that it'd be easier if they simply capture/kill Homura. To that point, Chrome snaps that if they knew her location they'd be able to do it. Gen details that the Tsukasa Empire's main concern is gun powder and the explosions from the detonated Sonic Bombs would distract Homura long enough to investigate. From the observatory, Suika spots Homura and briskly Kohaku sets off to tail her.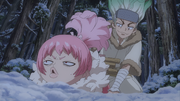 Immediately when Homura arrives at a spot where the bombs were detonated, Kohaku ambushes Homura with a sword attack, but with her adroit reflexes dodges the move. Homura's adroitness were a product of her years of training in gymnastics. Pursued by Kohaku, Homura refuses to give in and plans to exhaust her pursuer by keeping her talking and draining her energy; but is left astonished by how she can keep up with her. The pursuit leads the two closer and closer to the village, and when this is learned, the villagers are order by Kokuyo to take shelter. It's then that Senku intercepts the two and uses his newest invention, the Flash Grenade to blind Homura. An explanation of how Flash Bombs are made is given by Mecha Senku. Senku then captures Homura, but moments after escapes and evades being captured again. Once at a safe and high point atop of a tree branch, she names off all of the villagers in her sight. She then suspects the missing Magma, Chrome, and Gen are taking something to the empire and storms off. With Homura gone, Chalk is tasked with trying to track her scent, but is unable to do so. The villagers are panic stricken over the consequences if Homura would capture Magma, Chrome, and Gen and then destroy the cell phone they're carrying, as the plan would fail. Therefore, Senku reveals another new invention of his to help track Homura.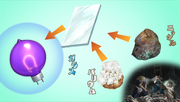 Using powdered scheelite that he secretly covered Homura on, Senku uses his new invention, a "Black Light Gun" to shine ultraviolet light and exposing homura's path as fluorescing spots on the snow and branches. As the pursuit group follow Homura's tracks, Kohaku asks if she could have permission to kill Homura, but Senku asks if she ever has killed a human before. In response, Kohaku answers that she never has and can't bring herself to do so by her own accord; she only considers herself capable if she's commanded to do so. On the other hand, Senku has faith in those entrusted with the Cell Phone, those of whom, continue their venture to the Empire making sure to do routine maintenance check ups on the Cell Phone to make sure it still works.
During a check up, the phone's bell did a single short ring, A signal from Senku to the group, telling that Homura is on her way. While camping overnight underneath a small cavity on the side of a hill, Senku explains Kohaku and Kinro about how they'll perform a pincer attack against the unsuspecting Homura. Meanwhile as dawn starts to break, Homura sitting atop a tree notices the scheelite glitter placed on her and the tracks she left from it. Because of this discovery, she washes herself off by a local river, making it impossible for Senku's group to track her anymore. Gen also sends ringtone morse code to Senku's group detailing their current location. Cross referencing this new information, it's suspected that Homura has already caught up to Gen's group and is tailing them.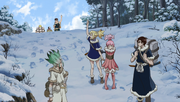 After sunrise, and when Senku's group is almost caught up to Homura and the phone team, they execute the pincer attack. Homura is led to the top of a dead tree with a decoy of the phone's coil and aerial. Senku's team then shows up, Magma and Kinro chop the tree down very quickly causing Homura to lose her grip and fall. She thought to herself that it was the end of the line, but her life was spared when Kohaku caught her fall, much to her relief.
With Homura recaptured, Gen's group continue to the Empire. Once the group reaches their destination, they find a large gathering of petrified statues with numbers written in blood on their foreheads. The lowest number written on the statues is 33 and Gen figures that the empire currently has 32 people in their Empire. Magma comes up with an insidious idea to break the arms and legs of the statues to make them incapable of fighting. Right as magma was about to execute this plan, Gen stops him. Understanding how savage Tsukasa is, Gen considers himself weak for being unable to kill or allow someone to kill other humans. Chrome then speaks in defense of Gen, claiming he's not weak and that their goal is one of a higher purpose.
By dusk, Gen's group reach the trade off point which is at Senku's "Fake" grave, and into nightfall set up the cell phone. Because of Magma's impulsive nature, he creates a loud noise that draws the attention of Ukyo whose astute hearing picks up the sound and pursues Gen's group.
The following day, Senku waits in his hut with Suika and Kohaku, until Taiju and Yuzuriha anwser it on the other side.
Characters
Locations
Inventions and Discoveries
Anime to Manga differences
While in the manga the cellphone's ringing sound seems to be a loud hissing "KZZZZZT" sound (similar to a walkie talkie), the anime switched it to a more traditional electric bell.[1]
For some reason, a split second shot was added during Homura's fall from the tree, in which Kohaku accidentally grabbed her breasts while trying to stop her fall.
Trivia
The flash lamp used in the flash grenade is single use, as the bright light is produced by the magnesium filament burning up in air or pure oxygen.

Senku tosses the grenade using an atlatl, or spear thrower.
The flash grenade is made of a flash bulb and a 15 volt manganese battery of the same style made for the phone. A spacer attached to a long string keeps the circuit open until the grenade reaches the right altitude, where the spacer gets pulled out, the circuit is completed and the bulb ignites.

The glass used to make the blacklight is called Wood's glass, it acts as a filter that lets ultraviolet and infrared light pass, while blocking most visible light. It was formulated in 1903, but its use in blacklights is being phased out.

Incandescent blacklights were the earliest type of blacklight, but they are incredibly inefficient, since the tungsten filament produces very little ultraviolet light. Thus their output is very limited and they get extremely hot from all the absorbed visible light in the envelope.
References