The Treasure is the twenty-second episode of the Dr. Stone anime.
Summary
Senku, Magma and Chrome explores a cave for tungsten, which they'll need to make durable filaments for their cell phone vacuum tubes. But Magma has other plans in mind.
Plot Details
Senku, Chrome and Magma prepare to head to the cave. Before going, Magma knows that it he will be alone with them and no one will be watching and Gen approaches him and whispers something.
Getting inside the cave, Chrome wonders if this is really a good idea as Magma may try to kill them and take over the village. And if Senku is gone, Tsukasa may not even attack the village. Senku explains there is no other choice and doubt that Magma was thinking that far ahead. They reach an area will of mica rocks, which are quite brittle and break easily and end up in a natural pit traps. Hearing some cracking, Magma pushes Senku away and the ground collapses under him, but Senku manages to grab his hand. Chrome tells him to release him and let him fall as Magma tried to push Senku into the pits and if he doesn't let go, both may fall. Magma states that he came to kill them and that they are weak. In this world the strong rule and if Senku didn't came that day, he would have been the village chief. In that moment, the ground under Senku collapses and they both fall into the pit.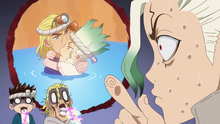 While stuck in the pit, Chrome pours some water over Magma, which only annoys him. Chrome explains that little by little he can pour water from the nearby lake and they will float on it and escape the pit. As that may work, but take forever, Senku calculates the length of the gas mask tubes and then tells Chrome what to do and has Magma throw him the gear. Moments later, water starts pouring into the pit. Senku explains that in his world, both brain and muscle were necessary and they can escape this due to all of their strength. While water rises, Senku starts to get cold. Magma grabs him by the feet and explains that he doesn't care if he is the boss until they defeat Tsukasa, but he better not show him anything lame. Magma then throws Senku up and he lands outside of the pit.
Magma manages to escape too and they start a fire to warm themselves. Senku comments due to Magma's strength they escaped the worst case scenario in which they had to hug and keep themselves warm with Magma.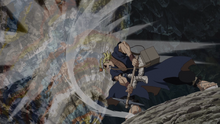 Continuing further in the cave, Senku sees a skarn deposit, a natural rock formation that has variety of rocks in it. They give Magma an axepick and he explains that he didn't want to attack them head-on as they could use science weapons against him. However, they wouldn't be alarmed if he raised a weapon while digging for treasure and he intended to attack them now. Senku knew he would be doing that and that's why he saved Senku at the mica hole. Realizing that, Chrome apologizes to Magma, but Magma no longer cares as he indeed was thinking of killing them. They start digging and obtain variety of rocks. Recalling what Gen told him and to bring Senku back in three days, Magma forces them to leave.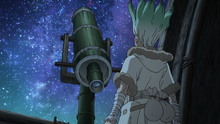 On their way back, little before the village, Magma ties Senku's eyes and bring him to the rest. Senku guesses they finally realized they can give Tsukasa his head and he won't attack, but Gen reveals that isn't the plan and takes his blindfold off. Senku then sees an astronomy telescope and an observatory they have made for him for his birthday. Senku wonders how they knew about it. Gen reveals that their previous talk, Senku said he was alive for 6268 days and even earlier at the miracle cave, he found engraving by Senku on the day he got himself un-pertrified. Gen comments even before he met Senku, he was already fond of him.
Characters
Locations
Inventions and Discoveries
Anime to Manga Differences