Spartan Crafts Club (スパルタ工作クラブ, Suparuta Kōsaku Kurabu) is the twenty-first episode of the Dr. Stone anime.
Summary
Making cell phones takes a lot of materials and tools. Senku begins by upgrading their equipment using the waterwheel Chrome and Kaseki invented and built together.
Plot Details
Having acquired the hydroelectric power plant, Senku decides to make batteries to store the newly created energy. He easily makes a battery using the sulfuric acid and two sheets of lead. Ginro realizes he no longer needs to turn the generator manually and he and Kinro get happy about it. Using the energy and gears, Senku builds an air-blowing machine for iron making, which makes the villagers happy as they no longer need to blow air manually. That gives more time for the villagers to prepare and conserve food for the winter.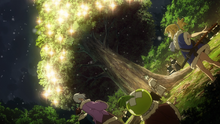 Senku focuses on creating light bulbs. Chrome wonders how will they keep them from burning like the first time and Senku explains that if you want something to burn you add air, and if you don't, you need to remove it. Using mercury, they remove the air of the light bulbs and then seal them. It starts to snow, but Senku wishes to finish the test today. He turns the light on a tree which reminds Gen of the modern world and that today is Christmas.
Having new equipment with lights, Chrome realizes he can go deeper into the caves and obtain new rocks and material. He asks Senku what he needs, but Senku tells him they already have all the materials they need for the phones. Ginro guesses that Chrome just wants to explore and Senku suggests getting more copper as it would be useful. While Chrome goes out, Kaseki asks Senku what is the next thing they will do and Senku tells him its vacuum tubes, which are harder to make compared to light bulbs. They start working on them, but the metal line going through the glass expands from the heat and breaks the glass. Chrome returns with copper and Senku creates copper tubes, which would not expand and break the glass, but then the bamboo filament burnt out instantly.
They continue trying, but fail over and over. Senku states that there is no better material in this age than the bamboo filament and as he can't think of anything else, they are stuck at the moment. Chrome wonders if he got any new rock that may be useful, but they don't find any. Suika does the same and go through the rocks Chrome collected. At night, Gen wakes up Senku telling him its new year and they should observe the sunrise together.
Everyone gathers on a cliff before the sun rises. The rock Suika carries starts to glow and Senku realizes its scheelite, a gemstone that glows blue when exposed to ultraviolet light. Excited, Senku explains its used in modern filaments, Tungsten. Chrome guesses there must be more further inside the cave. Having only one more set of lights, Senku decides the third member would be Magma as they would need brute force to collect it.
Characters
Locations
Inventions and Discoveries
Level 3 Iron Furnace
Lightbulbs
Headlamps
Copper tube
Scheelite
Anime to Manga Differences