Spider-Man: No Way Home Trailer Dropped - The Loop
Play Sound
The Age of Energy (動力の時代, Dōryoku no Jidai) is the twentieth episode of the Dr. Stone anime.
Summary
Tsukasa plans a second attack after a few months of preparation. He has no idea what Senku and his kingdom are cooking up in the meantime.
Plot Details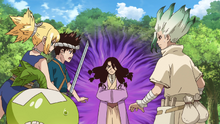 Senku and Gen start to think what Tsukasa will do. They perfectly predict what Tsukasa is thinking. Tsukasa knows that in time, he will gain bigger army, but it will give time for Senku to create more gunpowder and other weapons. Given that their fortress is on an island in a lake, they have the defense upperhand and it will be hard during winter. Tsukasa tells Hyoga that he will place men watching Taiju and Yuzuhara in case they are spies and is concerned if Senku decides to attack preemptive. Hyoga tells him he left Homura watch over Ishigami Village, but finds it ironic that they lack communication technology, which is needed in such war. Tsukasa decides they attack after winter ends with Senku guessing their time limit is spring.
Chrome and Kaseki are wondering how the phone works and Senku explains that the voice creates vibrations which pointed at diaphragm, create small electrical current in rhythm with the vibration. Using a vacuum tube, they increase the current power. Sending it around and around in a circle creates radio wave and the listening side does the opposite and receives the message. As first step into making phones, they need to create cotton candy machine. Creating the machine, Senku explains that putting sugar and rotating it, causes small sugar threads to come out. But if they replace the sugar with gold, they will get gold threads. As gold is precious, Senku decides to test it with sugar first.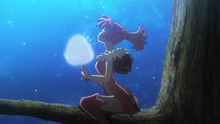 They take sugar crystals from the burn wine in the village. They make cotton candy and the villagers end up loving it as its their first time tasting a food like that. Senku asks Gen what type is Homura with Ginro guessing Senku is interested in her romantically, but Senku explains she is watching them. Gen explains Hyoga only trusts her and she follows his orders and is unlikely that she will betray him and join them. Senku makes a stand closer to Homura and leaves cotton candy. The others wonder why he did it, and Senku reveals that it may help making her join them. Ruri guesses he also just wanted to share cotton candy with a girl. Initially Homura refuses to eat it, but recalling how Hyoga told her that they won't leave anyone behind, she ends up tasting it.
Ginro can't understand why Gen and Senku are discussing the balance of the cotton candy, but they explain it had lumps, which means the gold will also have lumps and they need to find the reason and fix it. Making cotton candy again, they see that the rotation speed drops when the ropes change and that causes the lumps. Unable to use more people as the winter is coming, Senku decides to make a gear. He finds Kohaku's shield to be perfect for that, which causes Kokuyo to recall how he won it and gave it to his daughter, but believes it will be precious to Kohaku as he gave it to her, however Kohaku doesn't think twice and immediately agrees to use the shield as gear, crushing Kokuyo's soul. Seeing the gear in action, Chrome gets and idea and shares it with Kaseki, which super excites him. Senku reveals the wire needs to be long enough to reach the top of the mountain, which shocks everyone.
After three days of work, Chrome tells Senku that he is ready. Senku is surprised to see they made a waterwheel without any knowledge about it. He immediately combines it with their generator and creates a hydroelectric power plant.
Characters
Locations
Inventions and Discoveries
Cotton Candy
Gold Thread
Waterwheel/Hydroelectric Power Plant
Anime to Manga Differences