To Modernity (そして現代へ Soshite Gendai e) is the nineteenth episode of the Dr. Stone anime series.
Summary
Ishigami Village is set on fire by Homura Momiji. It is found out that Hyoga set this fight as a distraction as Homura swam over and started a fire. Kokuyo leads the villagers from their homes to the science hut while Hyoga and the others start a plan to steal a child. Suika thinks of a plan and starts to head down to the hot springs. Due to the wind, the sulfuric acid in the hot springs starts to spread down the mountain. Hyoga and team start to chase Suika but gets into the sulfuric acid trap. Senku and Kohaku save Suika. Then Senku plans to make a phone.
Plot Details
Some days earlier, Tsukasa Shishio finally finds the petrified Hyoga. He revives him and explains the situation. Some of the men find Hyoga to look weak and Tsukasa suggests they spar with him. Hyoga accepts and wants to fight ten men if he has his favorite weapon. As he defeats them, Hyoga states that the only man he doesn't want to fight is Tsukasa himself. Tsukasa takes him around, explaining that the world in which they were born every centimeter of it belonged to someone, but now nothing is claimed. Hyoga agrees with Tsukasa, that if the privileged class is revived and have weapons, they will try to make the world the same again. Tsukasa wants to create a new world built by the young. He tells him about Senku Ishigami and his science knowledge and that he had to kill him to prevent the old world from being revived.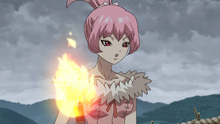 Having lost his weapon, Hyoga congratulates the teamwork of everyone, but comments that Senku failed to see this was a distraction. Senku then turns towards the village and sees it burning. Hyoga reveals his right hand, Homura who snuck into the village and set it burning. Homura avoids Kokuyo and Kohaku attacks and crosses the bridge returning to Hyoga. The villagers escape to the science shed, where Homura sets another fire. Suika decides to act as decoy. As Hyoga's plan is to capture a child and use it as hostage, his men go after Suika.
Hearing about it and that she headed down the mountain towards the poison lake and a wind appearing, Senku and Kohaku manage to get to Suika in time and save from the poisonous cloud blown by the wind. Hyoga and the rest climb a tree to escape the poison gas. They wonder if Senku created it and Senku decides to play it that he did. Having gas masks, Senku leaves with Kohaku and Suika. Hyoga decides to test if the gas is gone and pushes his men down, who then immediately die from the gas. Hyoga comments Senku and his allies are frightening as they have control over variety of metals and chemicals, meaning they will need to overwhelm them with great numbers and powerful fighting force.
Senku knows that Tsukasa will realize he can't create more gunpowder and he can't use guns even if he have them. As more time passes, Tsukasa is only creating bigger army, while Senku haven't revived a single person since they got separated. Because of that, Senku decides they need to attack first using the strongest in two million years of human history, communication technology, and create cellular phones in the stone age. Gen is shocked to hear that, while the Ishigami villagers have no idea what that is. Learning it will allow them to talk with someone from a distance, they can't believe it. Senku explains that using communication, they can target weak areas in the enemy defense and then reveals the roadmap to the creation of cellular phones.
Hyoga returns to Tsukasa, informing him that Gen reports were lies and the village has considerable scientific power and that Senku is alive.
Characters
Locations
Manga to Anime Differences
In the manga, the animal that dies to Sulfurina is a snake, whereas in the anime its a squirrel.