Stone Wars is the eighteenth episode the Dr. Stone anime.
Summary
To combat the Tsukasa Empire, Senku creates a weapon that can greatly turn the tide.
Plot Details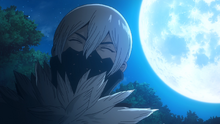 Gen Asagiri warns Senku that Tsukasa Shishio's army is coming and that there is another "bad news" man Hyoga, who have been revived recently. Guarding the bridge, Kinro notices enemies and tells Kinro to run to the village and warn them and if he ends up dying, to cut down the bridge.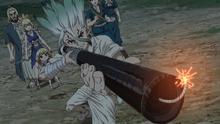 Being outnumbered, Kinro gets on the bridge, so that he can fight them one on one. He beats a guy, but then Hyoga appears who immediately realizes Kinro has bad eyes. Senku and the rest arrive to see Hyoga stabbing and defeating Kinro, who manages to grab Hyoga's leg and hold him for a moment, while telling them to cut the bridge down. Ginro tries to do it, but can't bring himself to cut it down. Senku decides to use his last gunpowder as bluff and seeing that, Gin asks Magma to throw a rock at the enemy. As Senku's "rifle" fires, Magma throws a rock, hitting the cliff. Gen runs back to Hyoga, yelling that they have guns and the enemy decides to retreat. Hyoga realizes this must be Senku and Senku confirms that he is still alive. They pull up Kinro and Senku gives him some medicine.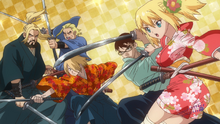 Gen suggests they attack while there is a storm, which will make their guns unless and Hyoga's men agree. However, Hyoga knows that Senku will predict that easily and they will just march into his trap, so its better to return to Tsukasa and gather bigger army. But his men find him afraid and still insist to attack during a storm and Hyoga decides to let them as even loosing they can see the enemy plan.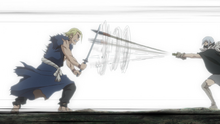 Senku expects Gen to suggest an attack during a storm and he starts preparing for it. In the next days, a storm comes and Hyoga's men attack. Senku lures them on the bridge, pretending that he can't use his gun, but Kinro, Ginro and the rest then show up wielding katanas and easily cutting down the enemy weapons. Senku explains he had Kaseki make them and with modern science they can make them faster than the old days. Hyoga guesses that Senku tried to break their spirit by showing them katanas, however, the katana is no match for his kudayari and his Kanryu-style spearmanship. Gen explains that Kinro, Kohaku and Magma are the strongest ones, making them realize the three of them must take on Hyoga. While they attempt to fight him, his spear snaps and he sees a cut too precise for a stone age tools and realizes it was Gen and that he betrayed them. Senku had secretly send Suika to look for Gen as he knew he would leave traces for them. When Suika found him, she gave him a small blade. Gen reveals his betrayal and returns to Senku, giving him back the small blade.
Characters
Locations
Inventions and Discoveries
Anime to Manga Differences
In the manga, Gen asks who the strongest villager was so they could toss the rock, Chrome pointed out Magma. In anime, Gen directly approached Magma and had him toss the rock.
After Kinro gets his glasses, Sapphire remarks she likes them.