Master of Flame is the fourteenth episode of the Dr. Stone anime.
Summary
The Grand Bout is on. The kingdom of science must defeat Magma and take the seat of the village chief in order to give Ruri the antibiotic and win over the village.
Plot Details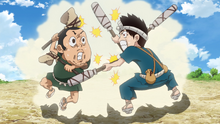 Obtaining the eyes of science, Kinro beats Magma, causing the group to be sure of their victory. Magma explains he can no longer fight, but wonders if Suika's mask is considered interference and if not, he accepts his defeat. Kinro turns to Jasper, stating that he chose to wear it even if it wasn't against the rules. Jasper states since it wasn't used as weapon, but just clothing, it doesn't break the rules. However in that moment, Magma gets up and attacks Kinro from behind, knocking him out for the victory and breaking the mask. Magma was sure that Kinro will ask Jasper and give him an opening.
The second round of Chrome versus Mantle is about to start. Learning that Kohaku went looking for her, Suika wants to go look for her, but without her eyes of science she easily trips. Chrome and Mantle's fight causes the audience feel like they are watching kids fight. Magma sees Kohaku returning from distance and orders Mantle to lose immediately and Mantle admits defeat. In the third round, Kohaku returns a bit late and Senku is announced as winner. As Kohaku returns, she hugs Suika, being glad that Mantle lied. Ginro chomps down all the remaining leaves from Senku's doping medicine. In his fight against Argo, his self-image is of someone super strong, giving him confidence boost and even though he got pretty beaten by Argo, he somehow manages to win. However, eating that many raw leaves disturbs his stomach and he ends up quite drained after going to the toilet.
The semi-final between Chrome and Magma starts, but in just a single blow, Chrome is down. Magma continues to toy with him and beat him while he is on the ground, intending only to stop after Ruri begs for it. Determined to save Ruri, Chrome sees Suika's broken mask and takes it and point it at Magma. Magma stops for a moment, but states he isn't scared of it. Senku realizes that Chrome intends to use the lens to start a fire on Magma's clothes, but is sure it won't happen due to the lens not being concave. Seeing Chrome is sure of himself, Senku realizes he made the lens concave literally using his sweat and tears.
Gen Asagiri shows up to everyone's surprise, wondering how many seconds Chrome needs to start the fire. After a complex calculation, Senku reveals its sixty seconds. Gen then decides to put on a show and calls Magma, thanking him for killing him the other day. Magma and Mantle are surprised that he is alive and Gen makes some gestures stating he put a curse on him and if he moves, his heart with explode. Magma complains this is outside interference, however Senku states its may be just a taunt and he is free to move and see if he explodes. Chrome joins the act and explains he can't move as well, while Gen states he can only hold the curse for sixty seconds. Chrome manages to stablize his hands and starts a fire on Magma's clothes. While he attempts to put the fire out, Chrome hits him in the balls and knocks him out of the ring and into the water, obtaining the victory. With Senku, Chrome and Ginro as remaining fighters, the Kingdom of Science obtain victory.
Characters
Locations
Inventions and Discoveries
Anime to Manga Differences
Before fighting Chrome, Mantle regains his left eyebrow in the anime. It's missing in the manga.