Welcome to Dr. Stone Wiki
---
Navigation
New Photos • New Pages • Categories • Help Wiki
Dr. Stone follows two boys' struggle to revive humanity after a mysterious crisis has left everyone in the world turned to stone for several millennia. We currently have 203 articles as of January 6. 2018.
Characters
MORE CHARACTERS

Future Releases Japan
July 4, 2019
Volume 11 will release in Japanese.
Old news can be found here.
Future Release
May 7, 2019
Volume 5 will release in English.
July 2, 2019
Volume 6 will release in English.
September 3, 2019
Volume 7 will release in English.
Latest Blogs
Affiliated Wikis
Spring Season 2019 Anime Wikis

TV Anime

TV (Multiseason)

ONA




OVA

Specials

Film
Latest Chapter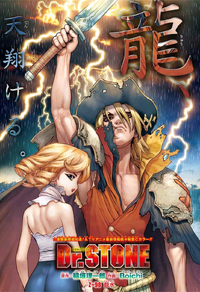 Survivors Chat
*Click On Image
Poll
What do you look forward to the most for the anime adaptation?