Stone Sanctuary (STONE SANCTUARY, Sutōn Sankuchuarī) is the one hundred and eighty-third chapter of the Dr. Stone manga.
Summary
The chapter begins with the team in Corn City celebrating the creation of the diamond. As it's only a tiny grain of diamond, the next step is to dig up some natural diamonds. With more seemingly-impossible work to do, Minami and Kinro die a little inside and Magma gets annoyed, threatening Senku as usual.
Chelsea draws up another map and explains that Lassen Peak has a lava dome that might contain diamonds and is about a week's journey away from the American Colony. The group set off and are shown mining. Senku then gives Taiju and Chrome a pop quiz; what's stronger, man-made or natural diamond? Chrome assumes it's the man-made one and is correct. The plan is to make a rasp using the tiny lab diamonds in order to file the weaker-but-larger natural diamonds to the right size. Senku then says it'll be their last communication until after the battle as radio waves would reveal their location, however one-way communication from Joel Gear is possible.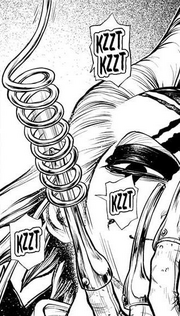 While the discussion is happening, Dr. Xeno wraps some wire around his metal claw, creating an electromagnetic coil, and then magnetises his claw by pumping it back and forth.
Chrome asks about their destination, and Chelsea correctly guesses that they're going to Araxá, where many rare earth minerals have been deposited due to the geography. It's where they plan on founding Superalloy City. Gen points out that Xeno seems to have already known where they're going, and Senku notices that one of Xeno's claws is magnetised but doesn't say anything.
Back on the Perseus, Charlotte notices some weird static and assumes they're communicating. It is pointed out that the pattern is meaningless but too regular to be anything natural. Stanley takes it as a message from Xeno and wonders what it could be about. Unsure of the stuff Senku could come up with but knowing not to underestimate him, Stanley remembers the blinked Morse code message Xeno sent, telling him that the goal is Araxá. He orders the Perseus to change course and head directly to their final destination.
Taking a shortcut, the science team cut across land rather than taking one of the river routes. To do so, they create an elevator (more of a vertical ropeway) to scale the sheer cliffs, which Gen doesn't like at all. Stanley's team arrives first and prepares to shoot them on sight, while Senku is still travelling via motorcycle. The chapter ends with Senku saying that the final battle will happen deep in the Amazon at the stone sanctuary.
Characters in Order of Appearances
Chapter Notes
The Corn City team is tasked with mining natural diamonds after creating artificial ones, and head to Lassen Peak to do it.

The plan is to use the stronger man-made ones to file the larger natural ones down to size.

Communication between Corn City and the science team becomes one way to ensure their stealth.
Xeno manages to get a second message to Stanley, which Stanley interprets as needing to move to the final destination of Araxá.

Xeno's first message to Stanley via blinking told him his captors would end up at Araxá.
Stanley plans to intercept the science brigade.

Superalloy City will be founded in Araxá.
An elevator is made.
Senku plans to dig up a diamond to power a Petrification Weapon machine gun to stop Stanley's crew.
Trivia
Senku says "one quadrillion" instead of "ten billion" when talking to Chelsea on page 11.

Literally, he says "1,000億万" which, translated, means "thousand hundred-million ten-thousand" which makes one quadrillion when multiplied.[1]

Unless there are scientists like Senku and Xeno petrified at Araxá, Xeno will likely stay behind to help build Super Alloy City.
References