Sickening Yet Beautiful (悍ましくも美しく, Ozomashiku mo Utsukushiku) is the one hundred and eightieth chapter of the Dr. Stone manga.
Summary
The chapter begins with the Kingdom of Science racing across the Amazon rainforest on their amphibious motorcycles. Stanley, in the plane, comments that had they not made it to the forest, the game would have been too easy. It turns out the only reason the American Colony rushed to finish the plane and allowed the Kingdom to overhear was so that they'd rush and leave a clear trail for them to follow.
In the rainforest, Chrome and Taiju celebrate outrunning Stanley, but Ukyo points out that the rainforest isn't exactly safe. Senku adds on to this, dramatically telling everyone that they're ten billion percent sure to die. To combat the bloodsucking bugs, Senku whips up sets of rubber boots for everyone. They continue on their path on foot, foraging and hunting for food. Dr. Xeno burns various plants to keep the bugs away.
Senku gives a pop quiz to the others, asking them what the most dangerous thing in the rainforest is. Taiju responds Tsukasa, which Kohaku agrees with. Tsukasa, with his mouth full, insists he's not and points out the true king: army ants. Luna is horrified. Chelsea proceeds to catch several of them in a jar, taking the 'army ant extract' and diluting it to make a sort of bug spray. The formula should be able to deter anything that would normally avoid army ants, which would be most things.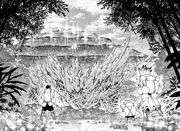 The team continue travelling and reach the Amazon river, building a water slide and several rafts to traverse it. On the way there, Chrome considers a device to puff the army ant extract into the air at set intervals for convenience. This reminds him of the timed Petrification Weapons, making him exclaim his new idea to Senku. The concept is to rig a constant, timed drip of Revival Fluid onto the person to avoid petrification. However, Senku asks him to consider what Whyman would do, and Tsukasa replies that he'd most likely use a multi-stage attack, firing the device several times. Gen wonders out loud if there might be multiple devices at the origin of the beam, prompting Senku to get excited.
A short time later, Suika finds a single device in the shallow waters they're wading through. Chrome tells her she's lucky, since there was a chance it would be very difficult to find. Kohaku tells them she might not be so lucky and to look up, revealing a huge stepped pyramid of the devices.
Characters in Order of Appearance
Chapter Notes
Senku reveals it's been four months, since the Perseus left Japan.
It is now the year 5742.
The Kingdom of Science enters the Amazon rainforest.
Rubber boots are made.
Army ant bug spray is made.
Chrome considers crafting a timed revival fluid device to prevent petrification.
A stepped pyramid of petrification devices is found.
Trivia
On page 1, Stanley's petrification marks are missing.
Xeno's knowledge is not limited to physics and chemistry, and includes some biology as well as he seems to be familiar with the plants needed to keep the bugs away.
Community content is available under
CC-BY-SA
unless otherwise noted.