Doctor Strange in The Multiverse o Madness - The Loop
Play Sound
Bonds on the High-Wire (綱渡りの絆, Tsuna Watari no Kizuna) is the one hundred and seventy-ninth chapter of the Dr. Stone manga.
Summary
The chapter begins with Stanley setting off in the airplane, and Taiju recapping their plans to get to the rainforest as soon as possible. They need to cross a large chasm, which Kohaku leaps across with ease using their set of scales as a springboard. Ukyo then shoots an arrow across attached to a piece of rope which Senku uses as a string phone to relay orders. Together, they create a ropeway that can handle 160 kg of weight to transport them and the equipment across.
However, they realize that they have to consider both weight and who's where, since Xeno cannot be left without a guard. Ukyo likens this to a certain river-crossing puzzle. Kohaku states that Hyoga and Xeno should not be left alone together either, as she believes they may team up to create another kingdom of chosen ones. Chelsea, overhearing, exclaims in confusion and concern as she thought they were all friends rather than a group of people who kept trying to kill each other. Gen explains the situation, which is shown as a simplified diagram.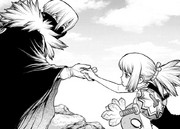 Taiju tries calculating possible pairs to ride with Xeno and realizes that only Hyoga is light enough to do it (as Kohaku is already on the other side). Senku tells him not to sweat it and they start sending people across. When Carlos, Suika and Max cross, a strong gust of wind hits and throws Suika out of her seat. Kohaku swiftly cuts the string telephone rope and uses it to catch her as she falls, hanging off her katana stabbed into the cliff face. She is left hanging, holding Suika who has hidden inside her mask and hasn't slipped out.
At the top, Chrome realizes that with Kohaku hanging off the cliff, the dreaded situation they were trying to avoid happened. Hyoga could betray them and kill Kohaku easily. However, Hyoga holds out his hand and helps her up. Chelsea smacks Hyoga on the back and calls herself a "Hyoga fan", making him slightly uncomfortable. Tsukasa and Senku are the last to cross together. Stanley's plane is shown once more, and the chapter ends with them finally having visual on the Amazon rainforest.
Characters in Order of Appearance
Chapter Notes
Senku's group successfully crosses the mountains and is in viewing range of the jungle.
A string telephone is created.
A ropeway is built.

The maximum load is 160 kg.

Chelsea learns how much bad history the Kingdom of Science has. Gen explains it to her using a diagram:

The crafting team consists of: Chrome, Kaseki (dragging Gen into it), Xeno (who has killed Senku), and Senku himself.
The fighting team consists of: Taiju (lifelong buddies with Senku), Kohaku (who loves Suika), Hyoga (who has killed Tsukasa) and Tsukasa (who has both killed and been killed by Senku).
Nanami corp. consists of: Francois, Ryusui.
Ukyo is sat out alone.
Luna is outside the team groupings, but she loves Senku while Max and Carlos love her.

The groups crossing the chasm together are:

Chrome and Kaseki.
Hyoga and Xeno.
Gen, Chelsea and Luna.
Carlos, Suika and Max.
Kohaku jumped across alone.
Senku, Tsukasa, Taiju, Francois, Ukyo, and Ryusui's crossings weren't shown.
Trivia
On page 9, part of Xeno's scar isn't colored in.
Originally, Riichiro Inagaki wanted to add an arrow between Senku and Kohaku on the relationship chart labelled "ex-sister-in-law" but decided against so that people reading from the middle wouldn't be confused.[1]
References