New-World Pilots (新世界飛行士, Shin Sekai Hikō-shi) is the 140th chapter of the Dr. Stone manga.
Summary
The Kingdom of Science are shocked by Senku's declaration and wonder how they can travel to the moon. Senku states they will follow the previous method of traveling, gathering allies and materials to do so. Some of them aren't surprised while others are fascinated by the idea of space travel.
On the island, the Kingdom of Science are freeing all those who were petrified, while Matsukaze is greatly amazed by witnessing the feat. Chrome then asks Matsukaze if there are other Petrification Devices but he states they were destroyed by his master and the last one was seized by a renegade. The Kingdom deduce this was the one Ibara used.
Senku states that they can revive the petrified as long as their statue is intact. Hearing this, Soyuz reflects on his father's state while Ginro is shocked they will free the island soldiers but Ryusui isn't worried. Kirisame and the soldiers recognize Soyuz as their leader's son and bow to him. Suika mentions that Soyuz's father is in the other room but can't interact. Hearing this, Senku relates about his own father, since he was on the island thousands of years ago.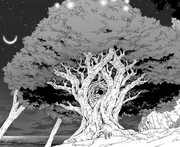 That night, Senku is at the island's big tree, where he is found by Kohaku and reflects that his father was there. He remarks on the passage of time, since Byakuya was on the island and states there is nothing left. Kohaku remarks he is wrong because of humanity being by Science, which Senku taught her.
The next day, Soyuz tells Senku that he has chosen to stay on the island. Senku is not surprised, stating its his choice while Soyuz reveals he memorized the revival formula, as Gen remarks on his memory. Soyuz is determined to revive all petrified, as Amaryllis voices intentions to aid him in this. Soyuz also has Kirisame take his place on the Perseus to help against Whyman and she agrees. Ginro then has Matsukaze join the crew too and the crew remark on his way of asking. Regardless the warrior agrees to join while Ryusui comments that he will be a valuable asset and Gen notes Ryusui is just as bad.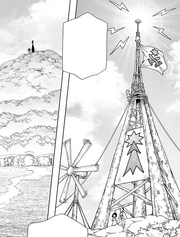 The next day, the Perseus sets sail with people of the Petrification Kingdom seeing them off with tears in their eyes. You Senku tells the crew not to cry, as it isn't goodbye forever, as it is shown a radio tower has been built on the hill of Treasure Island with a flag on it, signifying the Petrification Kingdom is part of the Kingdom of Science.
Senku says for the journey to the moon, he needs a crew for this. They already deduced Senku and Ryusui are likely candidates and they need to revive a warrior. They choose Tsukasa.
Characters in Order of Appearance
Chapter Notes
Senku reveals that they will need to travel around the world to collect items for the space shuttle.
Inhabitants of Treasure Island are de-petrified.

Soyuz stays on Treasure Island as rightful leader.
Kirisame takes Soyuz' place on the power team.
Matsukaze joins the Kingdom of Science.
De-petrified islanders join Senku and the others.
The Petrification Kingdom is now part of the Kingdom of Science.

Senku and others voyage back to Ishigami village to save Tsukasa.
Community content is available under
CC-BY-SA
unless otherwise noted.