The Kingdom of Science Strikes Back (反撃の科学王国, Hangeki no Kagaku Ōkoku) is the 117th chapter of the Dr. Stone manga.
Summary
Now revived, Ryusui assesses the situation, aiming to revive Kaseki next. However, his statue, along with all of the others, are guarded by Moz and Ibara aboard the Perseus. Unable to hold their breath for long enough to swim underneath the ship, Senku and the science team set out to develop an oxygen tank.
Using parts from the mobile lab, the team completes the tanks and pump. After ten hours of pumping, the tanks are ready for use.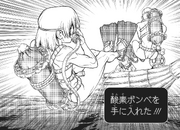 The next day, Ryusui and Soyuz use the tanks to swim underneath the Perseus. Soyuz's exceptional memory helps them to find the broken statues lying in a nearby reef. All of the crew appear present, including Kaseki. With the master artisan found, it's time to strike back against the Petrification Kingdom!
Characters in Order of Appearance
Chapter Notes
Senku creates an oxygen tank using parts from the lab car.
Ryusui is freed and aids his friends.
Kaseki's statue is found.