"Woof woof!"

— Chalk, on several occasions.
Chalk (チョーク, Chōku) is a dog from Ishigami Village that is owned by Suika.
Appearance
Chalk is a small dog with perfectly white fur and no markings. His ears flop over a little and his nose is fully black. His fur is quite short, the only exception being his tail which is slightly bushy. Chalk wears the village rope around his neck as a collar, marking him as one of the Ishigami villagers.
Personality
Chalk is quite a playful dog, frequently found playing with the foxtail millet. He rarely barks, but if he does it's to get someone's attention or out of excitement rather than from being scared or surprised.
Abilities and Skills
Sniffing: Chalk is trained to follow various scents, such as seeking out specific people or sniffing out truffles.[1]
Synopsis
Chalk first appears playing with Suika outside Chrome's hut, trying to grab the foxtail. He then helps in the way a dog normally does as the humans turn the millet into flour.[4] Later, Chalk joins Suika, Senku and Chrome on their trip to the sunflower field to test out Suika's new glasses.[5] He is also shown celebrating next to Suika when the others to get back from Sulfurina's lake, carrying sulphuric acid.[6]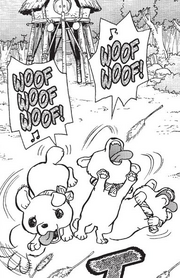 During the Grand Bout, Chalk is amongst the crowd that was slowly realising that Ginro should never become Village Chief. It's unclear if he's simply mimicking everyone else or if he agrees with their sentiments.[7] Chalk then joins the walk with a newly-healthy Ruri out into one of the nearby meadows.[8]
After Hyoga's initial attack on the village, Chalk joins Suika in scouting out the hidden path Gen left for them to follow. Together, they deliver the tiny knife Senku made to him.[9]
Following Hyoga's second attack and the Kingdom of Science's subsequent retaliation by trying to sneak a cellphone into the Tsukasa Empire, Chalk tries to help track Homura by sniffing along the ground, however due to her gymnastics movements he is unable to find her scent.[10] He's also the one who found Mantle knocked out and in a bush, having been attacked while guarding Homura, then revealing that Homura had replaced herself with a dummy under a blanket.[11]
During the boat competition between Magma, Senku and Yo, Chalk pulls the cover off of Yo's "completed" ship.[12] Suika and Chalk were also summoned by Francois as the resident forest experts to help them find ingredients for black truffle pork rillettes. Once they find boars, Francois demonstrates how to use them to hunt truffles. When they find one and it gets immediately eaten by Sagara, Chalk is trained on the scent to find the rest of them.[13]
Chalk is also very excited to see Suika again after she returns from Treasure Island.[14]
Chapter Appearances
Trivia
Chalk is probably thus named because of his perfectly white fur.
References
Community content is available under
CC-BY-SA
unless otherwise noted.