Argo (アルゴ, Arugo) is one of the villagers of Ishigami Village.
Appearance
Argo is a man with short, wildly spiked hair, a square jaw and sharp cheekbones. His eyebrows are usually angled downwards in a V-shape and his eyes are similarly slanted inward. He has pronounced lines under his eyes running from his inner eye to mid-cheek. His ears are slightly pointed, matching the angularity of the rest of him. He is slightly taller than Ginro, and is shown to have three parallel scars across his chest.
His outfit consists of no shirt and a pair of forest-green cut-off pants. The top flops out several inches over the rope belt he wears. When fighting Ginro, he is also wearing gloves. In the winter, he wears a fur-lined coat similar to the other villagers.
Personality
Argo's personality seems serious most of the time, but he's also easily stunned to distraction, as shown by how easily Ginro's tenacity during the Grand Bout surprised him.
Abilities and Skills
Argo's weapon of choice is a double-ended staff style weapon. During the Grand Bout, both ends are capped in a very rounded way, almost like boxing gloves, unlike the spears that are simply wrapped in a tube fashion. His combat ability is strong, with Kohaku ranking him between an "A" and an "S", and his fighting style is more about power than speed.[1] Had Ginro not taken Senku's power up ingredients, Argo probably would have won.[2]
Synopsis
Argo is first shown lining up along with the other combatants drawing sticks for who they will be going up against. He is wearing a robe of some sort that he takes off before fighting.[3]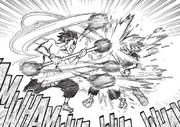 Upon starting the fight against Ginro, he appears concerned or confused about Ginro's dangerous swaying. His sudden lunge forward catches Argo off-guard, forcing him to take a strong stab to the stomach.[4] He continues parrying Ginro's attacks but is visibly surprised at how much pressure Ginro is keeping on him and is forced onto his back foot. Argo then finds a break in the bombardment and starts pummelling Ginro back with twice as much force. Through sheer dumb willpower, Ginro is left standing. This astounds Argo, given he looks completely beaten up. Argo backs up, starting to ask Ginro how is still in the fight in his condition, but he backs up too much and Ginro simply ends the fight by pushing him over the edge of the islet.[2]
Later, he's shown to have joined the small squad of onlookers watching Senku distract and delay Homura from chasing the cellphone delivery team.[5]
Chapter Appearances
Trivia
Argo is named after the 18th element on the periodic table, Argon.
Argo is the third most popular hunk amongst the villagers.[6]
References
Community content is available under
CC-BY-SA
unless otherwise noted.